A few semi-salient thoughts
reading, writing, books, and all things bookish.
2021

The Morgan Library at 36th and Madison in NYC. Nearly my favorite place in the world.
Wednesday, February 24, 2021
It's such a great book. Photos of libraries from all over the world. And the title?
Libraries. It was a gift.
I was watching something on TV, and the scene was in a library. I said to myself, "Wait. I know that library."
And there it was in my Libraries book. Pages 160-163.
The Jacob and Wilhelm Grimm Centre of Humboldt University in Berlin.
...
Wednesday, February 17, 2021
It started with A Swim in a Pond in the Rain by George Saunders.
Saunders chose four Russian writers and their short stories to showcase and explain. In addition to short stories, the four writers left us with novels, plays, poetry, insight, and material for a lifetime.
Ivan Turgenev 1818-1883 (aged 64) A Sportsman's Sketches; Fathers and Sons
Anton Chekhov 1860-1904 (aged 44) Three Sisters; The Cherry Orchard
Leo Tolstoy 1828-1910 (aged 82) War and Peace; Anna Karenina
Nikolai Gogol 1809-1852 (aged 42) The Overcoat
It seems to me you can't really understand humanity unless you understand Russia and the sources of all its brilliance, sadness, complexity, strength, and disparities.
And from there, my brain went to two other physican/writers (in addition to Chekhov) William Carlos Williams and Robert Coles.
It appears that writers/physicians are a natural combination of art, science, and verisimilitude.
Russian Empire 1860-1904 (aged 44)
Rutherford, New Jersey 1883-1963 (aged 79)
Boston, Massachusetts 1929-
Thanks to George, it's been a busy week.
Anton....................William....................Robert....................George
Wednesday, February 10, 2021
I feel like I've been waiting my whole adult life for this book. A Swim in a Pond in the Rain by George Saunders. And Michael Silverblatt's interview with George was over the moon. I'm so happy to have this book.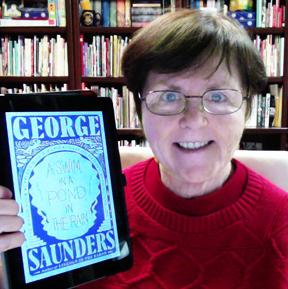 ...
Tuesday, February 9, 2021
Edward (1990) and Cheyenne (2011) share the same hairstyle.
I bet I'm the first one to notice this coincidence. Loved both movies. Diane Wiest and Frances McDormand are world-class thinkers and actors as is Johnny Depp who is also very brave.
Edward Scissorhands....................This Must Be the Place
On a chilly Monday morning, two more thoughts from the NYT Book Review.
The book reviewer of James Comey's new book stated that we need to determine the standards to be used for deciding what is true (as opposed to merely saying what is true). A few standards for determining what is true include vetted and reliable sources, multiple perspectives, corroborative views, tangible sources, and then consensus for those decided-upon standards.
I rather like this process.
Truth. Chasing it is always a noble endeavor.
Even when I'm behind (shamefully/pre-pandemic or forgivably/during-pandemic) with the NYT Book Review, it's still always wonderful to read through and pick out the best parts. I always start with Letters to the Editor.
To read these earnest and serious letters of angst, ennui, correction, accolade, concern, outrage, and gratitude is like being at dinner with friends who bring up little bits of this and that about books and book reviews while thoroughly enjoying their soup, grilled asparagus, filet mignon, and crème brûlée at Ruth's Chris (although now that I think about it, I'm not sure Ruth's Chris serves the brûlée).
Even without the meal, the letters and the reviews are delicious. For example: Andrew Sullivan took quite a thrashing with his mis-definition of liberal democracy, and thanks to three astute letter writers, he stands corrected (and hopefully humbled and appreciative).
And then there was Rupert Grint in the A&L section who paid tribute to Malcolm Gladwell's podcast Revisionist History. Rupert also does a wonderful job in Servant produced by M. Night Shyamalan. Season 2 can't come soon enough. Oops. I just checked. It's here. I'm behind. Nothing new.
The book review about John Thompson, basketball coach at Georgetown in D.C., was riveting. We need his caliber of leadership at the CEO, presidential, ambassador, and/or king level. The review was great and so is the book.
A good way to decide on a next book is the By the Book section. And an even better way is to check the Best Sellers list so that if the book is on the list for 17 or 110 weeks, whoa, it's a go.
Next, is the Editors' Choice. There's rarely a misstep there.
Finally in movie news, there was a full-page ad of Mank, which I thought was a misprint of Mark but which of course, it wasn't. Gary Oldman was fabulous as Mank just as he was fabulous in Rosencrantz and Guildenstern Are Dead; Tinker, Tailor, Soldier Spy; Darkest Hour; The Laundromat; and everything else (including and surprisingly as Sirius Black).
And finally, Bill Nye, the Science Guy, in Bliss with Owen Wilson and Salma Hayek. In fact, he stole every scene. Both of them.
One more thing…in the letters section, there was a vigorous discussion of punctuation in poetry. It's all still up in the air.
...
Thursday, February 4, 2021
A milky coffee with lots of sugar surely spells death.
And yet, here I am reading The Splendid and the Vile by Erik Larson in the morning and 197,196 Words: Essays by Emmanuel Carrère in the evening while waiting for season 2 of Lupin…all powered by a milky coffee with lots of sugar and just the right amount of caffeine.
Footnote: Hats off to Eddie Izzard for giving voice and accolades to the brilliance of a "milky coffee."
...
Wednesday, January 27, 2021
Mrs. Hall in the kitchen at Darrowby-2297.
Mason Cash bowls…they're everywhere.
And now for something completely different.
First of all, it's Clementeen. Four kids. The youngest a boy...a gambler, a drinker, and a bit of a puzzle.
The Splendid and the Vile…an extraordinary book.
And delightedly, just getting started.
...
Tuesday, January 26, 2021
Finished Mantel Pieces by Hilary Mantel. From Marie Antoinette to Robespierre to her stepfather, it was a roller coaster of a brilliant read. But the best parts were the little phrases she used to describe people, places, and events. And, of course, I didn't keep track of even one of them, which means I'll have to reread it at some point. And will do better.
Next up is Erik Larson's The Splendid and the Vile, which has been on the up-next list for a year. Will do better. And this book is gonna be great from start to finish. AND it's signed by the author.
...
Saturday, January 23, 2021
Dessa and Yellen! Here to save the day.
I'm not sure why this is so thrilling, but 'tis.
The rap was released on January 21, 2021, and Kai Ryssdal featured it.
Rap, research, economics, politics, perseverance, style, suavity, sophistication, and finally...a big plan. It's all there.
...
Saturday, January 16, 2021
Watching BookTV is not what it used to be. I depended on these bookish types to speak to other bookish types about their…books.
But now, it's zoom, zoom, zoom, and it's harder to stay focused as the audio, the video, the lighting, the odd configurations, the barking dogs in the background all appear, disappear, and reappear at random. ALTHOUGH, it may just me being persnickety.
How. Ev. Er. Today, I watched the former German ambassador to the US, Wolfgang Ischinger talk about the role of diplomacy worldwide. He was exactly what an ambassador should be. It was a wonderful conversation.
I can't believe I lucked out and clicked on just the right stuff to inaugurate the start of a very pleasant day.
Wolfgang has been in public service all his life. He supports the Paris Climate Agreement, NATO, diplomacy efforts with Russia and China, and stable leadership from the US with regard to world peace, economics, stability, and technology advances.
"The only thing necessary for the triumph of evil is for good people to do nothing." Edmond Burke.
Wolfgang is certainly doing his share of goodness. And more.
...
I never tire of Alan Bennett's observations.
And lately I've been rewatching his movie series packaged as 4 DVDs in a collection titled The Alan Bennett Collection featuring An Englishman Abroad and including my all time favorite, A Question of Attribution starring Prunella Scales.
One of those movies is about Marcel Proust.
Alan says that Marcel says that a novel takes you inside yourself rather than outside yourself. I'm not sure Marcel was right about that. I immediately thought of

four

twelve novels in no particular order that took me all over the world:
The Map and the Territory by Michel Houellebecq
The God of Small Things by Arundhati Roy
Anniversaries: From a Year in the Life of Gesine Cresspahl by Uwe Johnson
Lincoln in the Bardo by George Saunders
The Book Thief by Markus Zusak
The Goldfinch by Donna Tartt
Things Fall Apart by Chinua Achebe
A Man Called Ove by Fredrik Backman
Why I Live at the P.O. by Eudora Welty
The Lottery by Shirley Jackson
Stones from the River by Ursula Hegi
Heir to the Glimmering World by Cynthia Ozick
Also, I never get tired of listening to Alan Bennett read his work especially The Uncommon Reader.
And finally, for the weekend (even if the Dowager Countess of Grantham doesn't know what a weekend is), I'm well into Hilary Mantel's Mantel Pieces and loving it.
...
Tuesday, January 12, 2021
There are nearly too many books queued up at the ready. Jay Parini's book on Borges and Me turned out to be too full of cognitive dissonance for me. The book was mostly a coming of age book from 50 years ago rather than about the poet Jorge Luis Borges. Also, Parini, in the 1960s, was in Scotland studying for his thesis and at the same time avoiding the draft for the Vietnam War. He mentions this draft avoidance many times in the book, and I kept expecting him to say in the end, he became a conscientious objector and served somehow, somewhere. But no…He also mentioned the horrible death of his friend in the war. So…
Martin Amis's book Inside Story was supposed to be a novel, but really it was an historical anecdote about his relationships with Kingsley (his dad), Saul Bellow, and Christopher Hitchens as well as girlfriends and family. To be a writer for Amis seems to be all that he is when actually we know there are other fascinating rhythms of life:
The Second Movement of the Jupiter Symphony
Louie Armstrong's recording of Potato Head Blues
Sentimental Education by Flaubert
Apples and Pears by Cezanne
George Gershwin's Rhapsody in Blue
Or so says Woody Allen in Manhattan
Also, in today's Times was a piece about the new Moynihan Train Hall at Penn Station and VP Kamala Harris's photo on the cover of Vogue. Such a variety.
I'm moving on to Hilary Mantel's Mantel Pieces and possibly a piece of German Chocolate Cake.
...
Wednesday, January 6, 2021
Clarity isn't everything.
Also, a new book is queued up. Life isn't Everything: Mike Nichols, as Remembered by 150 of His Closest Friends.
And then there are three books to reread and to re-enjoy as winter settles in:
The Water Dancer by Ta-Nehisi Coates
The Dutch House by Ann Patchett
Mirrors by Eduardo Galeano
I WAS thinking about collecting all the book reviews written by Michiko Kakutani, who wrote literary criticism for the NYT for 38 years. HOWEVER, after reading about how she was fearless, disinterested, and sometimes mean as well as way too powerful, I'm thinking no.
For me, John Updike's advice on how to review a book remains the gold standard for reviewers. This advice is from his book Picked-Up Pieces from 1977.
1. Try to understand what the authors wished to do, and do not blame them for not achieving what they did not attempt.
2. Provide enough direct quotation—at least one extended passage—of the book's prose so the review's readers can form their own impressions.
3. Confirm your description of the book with quotation from the book.
4. Go easy on plot summary, and do not give away the ending.
5. If the book is judged deficient, cite a successful example along the same lines, from the author's ouevre or elsewhere.
6. Do not accept for review a book you are predisposed to dislike, or committed by friendship to like.
...
Speaking of new year's resolutions…
Yesterday, I bought carrots and low-fat dip.
Today, I had two cookies and a bag of chips for lunch.
On a MUCH brighter note, I got a lovely new fountain pen for Christmas.
Virginia Woolf wrote with a fountain pen. She also recommended George Eliot's Middlemarch, which I have just started reading.
...
It's fixed. Hats off to Network Solutions.
Well done. AND BTW, it's all plenty secure.
Network Solutions seems unable to fix their own site counter.
Additionally, the helpdesk is nonreponsive.