A few semi-salient thoughts
reading, writing, books, and all things bookish.
The Morgan Library at 36th and Madison in NYC. Nearly my favorite place in the world.
Tuesday November 21, 2023
Just starting Michael Cunningham's new book Day.
Plus, I heard the phrase False Comforts recently.
...
Evidently, half the world is shooting at the other half.
In the meantime, Cynthia Ozick wrote Heir to the Glimmering World, a fictionalized novel about Christopher Robin Milne.
Colm Tóibín wrote The Magician, a fictionalized novel about Thomas Mann.
Zadie Smith wrote The Fraud, a fictionalized novel that included Dickens, Thackeray, and Byron.
Tuesday, October 10, 2023
Finished The Fraud by Zadie Smith. There was a trial in the 19th century about a scalawag who tried to claim he was an heir to a fortune. Zadie included Lord Byron, Charles Dickens, Charles Darwin, and William Ainsworth with the incomparable Mrs. Touchet. In an old, old interview with Michael Silverblatt, Zadie mentioned that reading a book should be challenging/hard and should require effort. I think reading a book should be easy. This book took a lot of rereading to keep everything straight.
And in the end, a reader really has to care about the characters.
Caring about the characters is what happened in the next book.
Finished The Heaven and Earth Grocery Store by James McBride. This was a wonderful book. It told the story of oppression, meanness, tenacity, strife, victory, solidarity, and truth. "the seven requirements of Jewish life: wisdom, meekness, fear of God, love of truth, love of people, possession of a good name, and dislike of money."
Too much emotion. Too much hardship. Too much truth.
But in the end, it only takes a few who do the right things for the smallest of reasons to eventually win the day…and more.
And once again, I am taken back to a great interview:
Sunday, November 11, 2018 BookTV.
James McBride and John Grisham.
...
Wednesday, September 13, 2023
The Fraud by Zadie Smith. Started this book today and can't quite put it down.
Thursday, August 31, 2023


The Making of Another Major Motion Picture Masterpiece: A Novel
It was delicious. Start to finish.
Bill Johnson, the director with Final Cut.
Ynez…PONY driver/film executive.
Knightshade…the superpower for good.
Flamethrower…the superpower for destruction.
Robby, Stella, Uncle Bob, and plum trees in the backyard.
From carefree to drawing cartoons to WWII to a Harley to washing dishes to cooking to a bad hip to a wheelchair to a masterpiece movie.
...
Finished Dept. of Speculation by Jenny Offill. The main accolades seem to focus on the quotes used by the author throughout the book to examine the life of a young mother and the colicky baby.
Also finished Such Kindness by Andre Dubus III. It's a total explanation in novel format of how easy it is to fall from solid working class to living in one's car. A hurt back, lapsed insurance, a house lost, a home gone. Easy, easy, easy to see. We are each one small step away from despair via multiple parking tickets, a towed car, an addiction, section 8 housing, and the loss of everything including hope. What the book got wrong is the joy of work. If only the main character could work, all the rest would work itself out. Not really. The book oversold this joy of work theme several times. Also, finding people to help you is not as easy as bringing a neighbor some doughnuts. But the book, by far, is a thorough and truthful examination of life's potential pitfalls faced by all.
Finally, Act One by Moss Hart. This book is the autobiography of Moss Hart as he was growing up in the Bronx and in Brooklyn and finally making it on Broadway. It's a study in talent, perseverance, and success. But as James Lipton said, "for every one person who makes it on Broadway, there are a thousand still waiting tables." And another hundred people just got off of the train. Tony Shalhoub who starred with Andrea Martin in Act One at Lincoln Center stayed true to the book and true to the life of Moss. Nothing finer.
Next up, The Making of Another Major Motion Picture Masterpiece: A Novel by Tom Hanks. Can't wait.
...
Finished Fatherland today. Where to begin.
The Treaty of Versailles seems to be part of the beginning. The treaty was punishment against the Germans for their part in WWI. But as with all these various punishments and sanctions against countries and governments, it's always the common people who suffer. Poverty, unemployment, despair, lack of hope…these allowed the German people to become easy prey for evil men to control them and corrupt them and lead them straight into the death and destruction of WWII.
Burkhard Bilger's maternal grandfather and family lived in Alsace, which is on the Rhine and which was historically French then German then French then German then French all because of geography.
To read this book is to understand how people can be manipulated and bullied into believing in symbols and ideology all based on tricks and lies, smoke and mirrors, misinformation and racketeering.
Nationalism, corruption, greed, fear, threats, secrets, lies, propaganda along with control of information, books, schools, music, art, and curriculum. That's what it takes.
The book sought to discover and explain how people can fall into the wrong camp, the wrong side of history, and the wrong side of decency.
Fatherland is exhaustively researched and documented and leaves the reader with small (just small) flickers of hope.
In the end, there's little reason to live large. Small flickers of hope should be plenty.
...
Saturday, August 12, 2023
The National Book Festival in D.C. was held today. One of the many stars featured online and on BookTV was Douglas Brinkley.
His contributions to the scholarship on historical events are second to none. In fact, his analysis of Theodore Roosevelt's setting aside of millions acres as protected lands is unique. His answers on various presidents were scholarly and were always illuminating.
Footnote:

1998-2023.

The 25th anniversary of BookTV will be September 12, 2023. That's a Tuesday. Twenty-five years with Brian Lamb and Peter Slen. Changed my life...almost as much as my public library, Michael Silverblatt, and Rainbow Books.
...
First Sunday of the month. Must be time for a live interview with an author on BookTV.
He did a great job discussing his books. I'm still not sure about helium versus hydrogen, but he is and that's good enough for me. He talked in depth about his book on airships. The problems they had were enormous and were ultimately unfixable. His stories were fascinating.
He graduated from Princeton with a degree in history and from Johns Hopkins with a master's degree in writing.
His research and writing are solid, and his ability to explain his books and their contents is superb. Time well spent.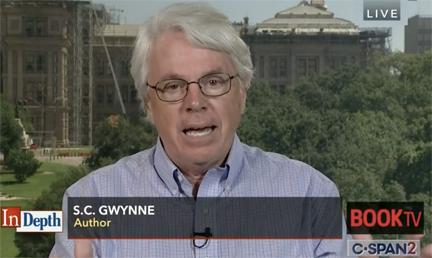 ...
I finished the extraordinary book by Michael Finkel titled The Art Thief.
Stéphane Breitwieser is a Frenchman who stole over 300 pieces of art from museums all over France, Switzerland, Germany, and Belgium over a fifteen year period starting in 1991.
He'd simply walk in and walk out with his jacket, shirt, pants leg, sleeve, or duffle bag filled with sliver, paintings, sculptures, Roman coins, swords, or pistols.
Three hundred pieces. Two billion dollars worth of art. He got caught.
Michael Finkel is the super-talented writer who tells this story as a thrilling, totally documented, page-turner.
The only thing left to wonder about is where is Stéphane right now… right this minute, and what is he up to.
I'm feeling the need to own a 17th century oil painting on copper.
Thanks, Michael, for researching and writing this book.
...
In The Covenant of Water by Abraham Verghese, the characters are living in villages where the land, the water, and your neighbors are life. It's a tale of generations who leave behind invisible threads that somehow never bring much balance beyond neutral gifts.
In the book, the author uses a quote from Nehru who said after independence from Britain, "now there will be a life of democracy, secularism, science, and technology."
I'd like to live in a place like that rather than what we have now, which is a world where money talks and does so in near silence.
Robert Rubin, former Treasury secretary was interviewed in By the Book. In answer to the question, "What book has had the greatest impact on you?" Secretary Rubin said, "That's easy. "The Underclass," by Ken Auletta. It follows a nonprofit organization as it attempts to improve the lives of some of New York's lowest-income residents, and when I read it in 1982, it completely changed the way I think about poverty in America. This was during the Reagan years, when the notion was that Americans could simply "pull themselves up by their bootstraps." But Ken's argument — which I found very persuasive — is that poverty is a vicious cycle, replicated over generations, and that being trapped in that cycle is far more the result of society's failings than of the individuals'. "The Underclass" led me to believe that trying to break the cycle of poverty through policy and through private efforts is not just right for moral reasons, but is enormously in the interest of all of us, both because of the economic impact of lifting people out of poverty, and because of poverty's negative effects on social cohesion."
For me: Democracy, secularism, science, technology, and social cohesion with books being a given is ideal.
And finally for today, Poverty by the Pulitzer prizer-winning writer, Matthew Desmond is the other book on my mind lately. These three books document through fiction, journalism, and science the topic of what it will take for everyone to have what is needed.
One more thought. In the HBO series, Succession, Brian Cox looks at his adult children and says to them, "You people are not serious people." All the above are.
And even one more thought. If By the Book ever asks me what book has had the greatest impact on me, I would say, Down and Out in Paris and London by George Orwell.
| | |
| --- | --- |
| ... | ... |
...
Dennis Lehane wrote Small Mercies: A Novel
Adrian McKinty wrote In the Morning I'll Be Gone: Detective Sean Duffy, Book 3 and narrated by Gerard Doyle.
I just finished both of these books within a day of each other by reading Small Mercies and listening to In the Morning.
In Small Mercies, Mary Pat is the wronged and grieving Irish-American mother living in South Boston where Detective Bobby Coyne is working hard to keep gangs, drugs, guns, racism, and school integration in the 1970s from exploding. Frank and Marty are the murderers, kingpins, drug lords, racists, and criminals that keep South Boston full of rage, hate, misogyny, and violence. Mary Pat goes the ultimate distance to find out if Frank and Marty killed her son Noel and her daughter Jules and why.
In In the Morning, Mary Fitzpatrick is the wronged and grieving Irish mother living in Ireland where Detective Sean Duffy is working hard to keep the Catholics and the Protestants from killing each other on sight during the troubles in the 1980s. The killer of Mary's daughter, Lizzie, is consumed by greed and money amidst all the bombings, religious tribalism, English oppression, misogyny, and class warfare. Mary goes the ultimate distance to find out who killed her daughter Lizzie and why.
Both of these books came across my desk at the same time with no planning…only coincidence.
They are each accurate historical novels (if history can be called history when it occurred as recently as the 70s and 80s), and each book thoroughly explores the inexplicable ways in which tribalism, religion, misogyny, power, and economic deprivation can keep people and their lives in perpetual prison with no way out.
The people in these books are long gone (particularly since they are in fact merely shadowy characters on a page). But there are millions of actual people exactly like them…all of them.
Good and evil, upstanding and dishonorable, generous and greedy, balanced and un.
Both books tell their stories flawlessly and include all the loss that humanity can possibly conceive.
Is the reward for greed and power greater than or less than the standard portion of a cup of kindness.
In the meantime, I've located for rereading The Seaman's Journal by Patricia Reeder Eubank. I recall it as being uplifting…like all good dog books should be and are.
Footnote: Both books declare that we become what we are handed. Also, Gerard Doyle is the perfect Irish narrator for all things Irish.
...
...
The Book of Charlie: Wisdom from the Remarkable American Life of a 109-Year-Old Man by David Von Drehle.
Tom Hanks certainly liked the book and gave it several recommendations.
The best thing about this book was not necessarily Charlie, it was that Charlie lived through major world events, which the author included within Charlie's story thereby giving Charlie's life context.
Life is always about context.
...
A quick scour of the internet, and it appears that I'm the only person on the planet who is upset by Apple's dissolution of My Photo Stream.
This Stream of free 5Gs of cloud space allowed my iPhone photos to move seamlessly from camera to cloud to all my devices for free.
Apple would like me to pay them $10.99 per month for this exact same service, which as of yesterday had been free.
And it's not even the $10.99 per month…well, actually that's a big part of it (and once you're hooked on the cloud, they'll conceivably go from $10.99 per month to $100.99 per month with no recourse), but mostly it's the greed. The greed.
Plus, it doesn't feel very Jobsian.
I've found a work-around, which will save me the $10.99 and will thereby allow me to continue to buy my monthly frappuccino at Starbucks for said $10.99 including chocolate chip cookie (warmed).
In the meantime, I'm listening to In the Morning I'll be Gone written by Adrian McGinty and read with the perfect Irish brogue by Gerard Doyle.
And because Tom Hanks recommended it, I'm reading The Book of Charlie by David Von Drehle.
...
Solito by Javier Zamora.
Finished this very difficult book with a renewed understanding for the chasm between those who have and those who don't.
Outside of the book, I'm still slowed by people who can read the book and then feel unconnected to the causes and problems represented by displaced peoples around the globe.
Javier survived seven weeks of coming to La USA from El Salvador via determination, luck, help, and the innocence of youth.
He's now looking for Chino, Patricia, and Carla, wherever they are, to say a decades-long thank you.
Eggs and beans on tortillas.
The bodies of 30 people together for days in one room.
The need for a drink of water.
The high price for freedom charged by desert guides.
Simple rules for not getting caught.
Long-term results of US interference in foreign governments.
Clean clothes and showers.
It's so great to read a review that recognizes and endorses a great book.
And the latest review is one written by Dwight Garner about the book,
King: A Life by Jonathan Eig.
The book is a definitive account of MLK's life and gives the reader hope that a divided country will somehow become smarter, more generous, more grateful, and more honorable.
The review concludes with a quote from Eig, "Here was a man building a reform movement on the most American of pillars: the Bible, the Declaration of Independence, the American dream."
...
Hello Beautiful by Ann Napolitano.
Oprah liked it, and I like Oprah.
I think Oprah liked the book because it was set in Chicago. But actually, the four main characters were quite ordinary. They made the usual number of life's mistakes

;

and in the end, they were all headed toward a stable and easy life.
E. B. White gives sound advice on using semi-colons. They're rarely needed, but when they are…
And now after Chicago, it's on to El Salvador in a book titled, Solito by Javier Zamora. It's a grueling story of immigration from the eyes and pen of a nine-year-old boy who remembers every life-threatening aspect of crossing the desert and making it to his parents in La USA.
Javier won the LA Times Christopher Isherwood Autobiographical Prose award, which was broadcast live on BookTV. This is too difficult a book to read right before bedtime. That award goes to the invaluable stories by P. G. Wodehouse who never misses a beat.
Yes, THAT E. B. White.
Hedda to Member of Parliament to King Lear.
May 9, 1939 - June 15, 2023 (age 87)
Avid Reader throughout his life.
April 29, 1931 - June 14, 2023 (age 92)
| | |
| --- | --- |
| The Independent. | NPR. |
The Lock-Up by John Banville
English oppression, Archbishop bullying, German aggression, the arms race, Israeli strength, Irish resolution, it's all there.
A murder, then another murder, then another.
This book gets everything exactly right.
La Gazette de Monaco.
Pineapple Street by Jenny Jackson I did finish it. It was probably an accurate account of the 1% who are engulfed in their own gated bubbles of angst and ennui. I kept waiting for it to get better, and it never did. The characters were shallow, the plot predictable, and the women were trapped in the darkness of their own hormones.
Next up is The Lock-Up by John Banville with characters who are lost, injured, sad, struggling, and on the brink (but mostly Irish). Good for John. No 1%ers for him. All oppression and bereavement.
The Book of Delights by Ross Gay simply because the book and topic were featured on This American Life, and who doesn't remember the delight and excitement of their first bus ride.
Homestead by Melinda Moustakis. It has everything. I just finished it.
Marie and Lawrence are a young couple who try to make a life in the wiles of Alaska in the 50s. It's brutal.
Animal attacks, freezing winters, potato blight, hunger, distrust, and danger.
In the end, this book is a careful examination of survival, skill, colonialism, corruption, graft, and the always-to-be-doomed interference with the rhythm of the earth and its indigenous populations.
Shem and Billy, Sheila and Sly, and other characters all trying to make it work.
It's a novel, so it had to end with some sort of hope…even a little.
...
...
Finally, today, the Apple WWDC 2023 arrived. In addition to various software updates for iPhone, iPad, MacBook Air, and the plain and great, good ol' desktop Mac, the VisionPro goggles were announced, explained, dissected, reassembled, and placed in an ad.
Fortunately, I have the prototype that was smuggled out of Apple, Inc by an enterprising pirate and sold to me for $79.95 tax-free.
After using the goggles and watching the whole two-hour event, I'm afraid there is too much hype.
Critical Apple Theory finds that:
1. While Apple strongly advocates good mental health and handy apps (which are inevitably destined to be hacked by a Columbian drug cartel), the VisionPro goggles were shown primarily used in isolation to view movies and photos. Good mental health needs other good people all around rather than a single guy on a single couch watching action movies and playing action-packed (AKA violent) video games.
2. The benefit of humongous virtual screens is neither a research-based fact nor a huge draw.
3. Sitting on one's couch watching pirate movies and wild horses evidently appeals to a particular demographic and this demographic was featured in all action scenes. All.
4. Following a half-second lag when one guy handed another guy an orange credit card, an Apple VP mentioned there was no lag time when using the goggles.
5. Playing ball with your dad in the kitchen while he's wearing his goggles and chopping carrots is creepy.
6. The actual number of people in hotel rooms having business meetings while wearing goggles and seeing other apparitions hanging about in the air or on the wall is fairly low.
7. The single best use of these goggles will be educational. The best clip was seeing a beating heart apparition in thin air and 3D. The. Best.
8. Bob Iger bravely got on the stage and explained all about the partnership between Apple and Disney+. He talked about everything except the price, which is inevitably going to be too high.
9. What I really need is a Mac that is a one-piece 32-inch monitor with built-in card reader and CD player. I also REALLY need a one-price Photoshop CD that works natively on Mac thereby leaving Rosetta in the virtual dust. Otherwise I'm all set.
10. If Apple could actually do something extremely extraordinary, I'd have them invent a time machine so that we could go back and get John Muir, Dian Fossey, E. O. Wilson, Stewart Udall, Theodore Roosevelt, Steve Jobs, Henry David Thoreau, Dwight & Mamie, and of course, Albert. Leading and chairing the whole group will be current-day superstars Jane Goodall, Greta Thunberg, and Carl Zimmer. Tim and Bob can arrange all the first-class accommodations…personally. I'd also bring back Tim Pigott-Smith simply because he's so great.
11. I also noticed that Apple has lost all touch with their icons of Think Different although a Goldman Sachs savings account could certainly fall under the category of different.
12. These Apple people are SOOOOO very smart. Their unwavering commitment to and success with end-to-end encryption is why I pay extra for all their devices. I trust them, and yet…these goggles. Hmmm.
13. Finally, I'm wondering if Tim is interested in my Critical Apple Theory thoughts. I'll give him a ring.
Footnote: For the record, I'm keeping my pirated goggles.
Footnote 2: I've loved Apple ever since I bought my first IIe including and through today.
...
Think Different
Peter Slen interviewed David Quammen about all the books he's written about viruses, the pandemic, and the relationship between the microscopic world and the human world.
He explained that so far viruses move from their world to the human world via birds and mammals.
This process is called zoonotic.
...
Live from the Metropolitan Opera.
Including the glockenspiel.
In the 1700s, many operas were written in Italian. Mozart was from Austria and decided to write Die Zauberflöte (The Magic Flute) in German rather than Italian for the benefit of everyone.
The Met staged this opera with an amazing group of singers, musicians, and stage crew who were responsible for the movable stage and all the props including a real-life glockenspiel played by Papageno under duress and under fire from the Three Little Boys.
The other amazing attribute of this Met presentation (basically about Beauty and Wisdom) was that online all the words were captioned in English.
Footnote: Galileo primarily wrote in Italian rather than Latin in order to honor common Italian citizens who rarely spoke and never understood Latin (according to Dava Sobel who wrote Galileo's Daughter).
Half-way finished with Maria Tallchief's biography. Her life was extraordinary. From Oklahoma to NY to LA to Paris and back again many times.
At one point she was married to George Balanchine. She wrote about how difficult some of his ballets were. Even though I tried not to, I couldn't help but think of the concept of passive/aggressive behavior.
And then, I'd like to see men on pointe every now and then.
Great book for the details of how music, dance, talent, and perseverance can create long-lasting beauty and comfort. And then including Stravinsky, Toscanini, Marlene, Jerry Robbins, and dozens of other accomplished compatriotes is a perfect example of essential, informative, and entertaining details.
Footnote:

She even explained how some of the stages had wooden floors with splinters and slopes. (Hard to pirouette on a stage with splinters and slopes...particularly on your toes.)
...
Just finished The Personal Librarian by Marie Benedict and Victoria Christopher Murray.
Nearly my favorite place in the world is the Pierpont Morgan Library on 36th and Madison, NY, NY.
And now I know why. Belle was hired by John Pierpont Morgan to build his personal library of the best books and art of Europe and beyond around 1900.
Belle did all that and more. Her expertise knew no bounds. This kind of expertise requires decades to accrue, and even though the authors documented her college degree, it's still unclear how she actually learned all the historical, artistic, and technical knowledge that was always at her fingertips.
I remember thinking the same thing when reading all six volumes of Karl Ove Knausguaard's work. When did he have time to acquire all that knowledge at such a young age.
The book is perfect. Belle rose to the highest levels as curator, business woman, art historian, and formidable negotiator. An essential book to understand the foibles and heart of humanity and also the arts.
...
Finished The Wager by David Grann.
When will all the warring stop? That's one take-away. There are dozens of others.
The book is well written and gripping. It seems impossible that a ship can withstand hundred foot waves and being stripped of its sails while still continuing to find land, but it's all there in the captain's logs and in the journals of the sailors and officers.
Sailing around the world in the 1700s with the intent of conquering lands that actually were already inhabited by indigenous people seems too preposterous, but there you have it.
Humans at their most preposterous.
The book could not have been better. There's an absolute clear sense of living for months and years lost at sea on a ship that is literally falling apart. The storage, the food, the hammocks, the sailors' sea chests with their belongings, the torturous, mutinous, murderous thoughts and feelings of sailors driven to starvation and sickness...it's all there. Two thousand men and boys leave for adventure. Two hundred or so return to Britain for court martials, medals, promotions, book publications, and at long last, a paycheck.
Charles, at long last is finally king. Which brings me to the play and the movie:
King Charles III
Starring Tim Pigott-Smith (1946-2017).
...
Today's disparate thoughts…must be spring.
Marley was dead. To begin with. Charles Dickens
For Sale: Baby Shoes. Never Worn. Ernest Hemmingway
Found true love. Married someone else. David Eggers
To be, or not to be? William Shakespeare
It was dark inside the wolf. Margaret Atwood
Also, I'm wanting to read Hermione Lee's biography of Virginia Woolf.
And I'd really like to read SPQR about the Romans by Mary Beard.
Additionally, a little wisdom from George Orwell as Jay Powell and Jamie Dimon are this very day shaping the world's money supply:
"We could do with a little less talk of capitalist and proletarian and a little more about the robbers and robbed."
So, Jamie and Jay, if we could start the planet's money and money-laundering systems all over again, how could we build in and ensure equitable resources and wealth for all.
Finally, I'm halfway into The Wager by David Grann. Soooo great. I'm so happy not to be a shipwright, a British Navy sailor (then or now…but especially circa 1740), a pirate, or a robber baron. The world will never recover from colonization, and we without a restart button.
Footnote: SPQR Senatus Populus Que Romanu, Senate and People of Rome.
...
One of the best parts of the NYT Book Review are the letters to the editor:
Felicia of Providence, Rhode Island wrote in to remind people that Elmore Leonard had advised never to open a book with weather.
She went on to say, "George Orwell knew better when he opened "1984" with "It was a bright cold day in April, and the clocks were striking thirteen."
...
Watched LIVE on BookTV the Los Angeles Festival of Books from USC.
To name a few, watched two panel discussions. Topics included censorship, intellecutal freedom, library funding, environmental issues, and narrataive journalism:
Serious thinkers, writers, people.
The whole festival cost about a million+.
Elon Musk's SpaceX Starship is about three billion+.
Less than a minute ago as measured by geological time:
Gloves. Hose. Pearls. Hats. Bridge. A new Lincoln. Shopping at the Plaza. Boredom. Malaise. How was Your Day, Dear? Cocktails.
And then along comes Betty Friedan, Gloria Steinem, Marilyn French, Angela Davis, Bella Abzug, and Woody Guthrie.
We have Mrs. Bridge and also Mr. Bridge to document married life in the 40s. Both books by Evan S. Connell, ©1959 and ©1969, respectively.
Taylor. AOC. Greta. All saying thanks, thanks a lot.
...
Coming up might be Oprah's recommendation…Hello Beautiful by Ann Napolitano although I was just thinking, I don't think it can possibly be as good as:
Lessons in Chemistry
Where'd You Go, Bernadette
The Goldfinch
Where the Crawdads Sing
...
Every Man a King
From Manhattan to Brooklyn to Queens to Long Island to Staten Island to Yale to Canada and back and then on to Kentucky and back again.
I estimated five thousand miles. Perhaps six.
I also estimated about five thousand characters to keep track of. It was a lot.
Plus, Rikers Island is so beyond the pale as to be inhumanely incomprehensible.
The book reminded me of C.B. Strike by Robert Galbraith as played by Tom Burke in the series. Also reminded me of The Blacklist with James Spader.
Big Oil, Big Money, Big Corruption equals Big Moral Deficits.
A bit of counter-balancing good news is that Silicon Valley is investing a billion or so in the removal of carbon from the atmosphere.
...
Watched The Circle with Tom Hanks and Emma Watson.
It's based on the book by the wise and astute Dave Eggers.
Dave got it all just right. Google. Amazon. Apple. Chase. He-who-shall-not be named. And all the rest.
Dave's book took their services and surveillance to the next level so that every person on the planet was under constant and voluntary surveillance (for the good of us all).
Jaron Lanier is the guy to watch for keeping us all warned about Big Tech.
...
Understanding America is an impossibly big job.
The book Travels with Charley In Search of America by John Steinbeck is a very good start. And it's a good finish.
In this book, Steinbeck was critical of embezzlers, uncontrolled corporate wealth, the degradation of land for the purpose of strip malls, and the racist attitudes he met along the way (particularly in the south)…but his admiration and connection with ordinary working people are evident on every page.
"The great get-together symbol is the cup of coffee."
"I suppose our capacity for self-delusion is boundless."
"...for man has to have feelings and then words before he can come close to thought and, in the past at least, that has taken a long time."
"I haven't seen anything but cowardice and expediency. This used to be a nation of giants. Where have they gone? You can't defend a nation with a board of directors. That takes men. Where are they?"
He traveled throughout America from NY to ME NH VT Chicago ND MT WA CA TX MS GA home and through all places in between. He spent several months in a truck fitted with a camper, kitchen, bedding, typewriter, books, and Charley…the French poodle from France who said, "Fttt" when he needed something special.
As I finished, I thought of two other books: 1) Alexis de Tocqueville's Democracy in America with the best French to English version completed by Arthur Goldhammer and 2) the unique Blue Highways by William Least Heat Moon who said he revised his writing 39 times…40 times was lapidary.
And closely aligned to understanding America is Mastering the Art of French Cooking by our Julia.
Serious thinking about America and beyond requires a few bites of a nice profiterole aka cream puffs, pp. 177-180.
What if the Fed raising rates is not the cure for America's inflation?
What if the cure for inflation is for consumers to simply stop buying so much stuff (excluding food and gasoline, of course)?
Producers will then start lowering their prices and consumers will have more time to visit their local libraries.
I wonder if Jay Powell has thought of this.
...
Book TV with Stacy Schiff. Live. Two hours.
It was an abundance of riches.
She talked about most of her books and took call-in questions from all kinds of folks.
Her books feature Ben Franklin, Samuel Adams, the Salem witch trials, Véra Nabokov, Cleopatra, Antoine de Saint-Exupéry, and all things in between.
Word for word…it was all perfect.
In her remarks about Cleopatra, Stacy explained that Cleopatra was Macedonian and Greek. Cleopatra ruled in Alexandria, Egypt as well as Rome. Alexandria ws famous for its international trade, its sophistication, and its library.
Leaders in Alexandria preferred to settle disputes through trade and discussion while Rome, famous for its military conquerors, preferred fighting and war.
Sunday with Stacy and Peter.
...
The past is not dead, it's not even past.
The Magician: A Novel by Colm Tóibín is about Thomas Mann (1875 – 1955) and his family, his writing, and his life in and around two world wars.
Mann won the Nobel Prize for literature for his novel Buddenbrooks. Colm took the known facts about Mann and wove a probable story about the times and troubles through which Thomas and Katia (his very capable wife) lived. The book is a brilliant novel with all the truths and subtleties required. Colm never misses a beat.
Then it was The Escape Artist: The Man Who Broke Out of Auschwitz to Warn the World by Jonathan Freedland.
And then for the fourth time, it's Allan Corduner reading The Book Thief by Markus Zusak.
That's three books in a row about war and the ways in which a few evil people can create an unlivable world for the masses.
So, it's time for Travels with Charley by John Steinbeck. I've finished chapter 1, and already my equilibrium is almost completely restored. That's Steinbeck.
...
The Escape Artist: The Man Who Broke Out of Auschwitz to Warn the World
Walter Rosenberg (1924 – 2006) renamed for protection Rudolf Vrba.
Alfréd
Israel Wetzler (1918 – 1988) Fred renamed for protection Jozef Lánik.
Walter and Fred were from Slovakia. As young Jewish people, they were captured and sent to Auschwitz. They watched thousands of Europe's Jews murdered by the Nazis. They escaped from Auschwitz in 1944 after surviving two years in torturous conditions.
After their escape, they wrote down everything they knew about the camps and went to leaders to have it published.
1. that the world did not know what was happening in these camps.
2. that after the world found out what was happening in the camps, the world leaders would step up and end the German aggression.
3. that after world leaders (and especially Hungarian leadership) found out about the camps, world leaders would start warning people (Hungarian Jews in particular) about the German plans to send them to Auschwitz.
None of those three assumptions were accurate.
The book is a revelation in every way possible. It contains historical accuracy of names, dates, cities, people, villages, and the men responsible for the six million deaths.
It's easy to see this level of aggression and murder as an historical anomaly until the headlines about Putin and Ukraine are printed.
The past is not dead, it's not even past.
The book is straightforward, clear, and well documented.
The book also references, of course, Eli Wiesel (1928-2016) (winner of Nobel Peace Prize 1986) and Primo Levi (1919-1987).
The book also documents the life of Walter/Rudi after the war: Ph.D. in neurology/chemistry, publications in scholarly journals, conference keynotes, honorary doctorate, husband, father of two, university professor in Vancouver, advocate for truth.
Related to this book is another Holocaust survivor who is 100 and who made a recent presentation at Gonzaga University.
Carla Peperzak, said "The fact I'd like you to take away from my presentation is simply this: The Nazis didn't need raving anti-semites to help them carry out their mission. All they needed was people who are willing to follow orders without asking questions."
| | |
| --- | --- |
| Rudolf Vrba | Carla Peperzak |
And now it's on the shelf.
Waiting for the inevitable reread…right after lunch.
...
Jeff Guinn was live on BookTV today for two hours with Peter Slen at the Tuscon Book Festival.
Jeff talked about his 25 books and answered loads of questions from viewers who called in with good questions and positive feedback.
Jeff's answers were given with a friendly and professional response. He mentioned Travels with Charley in Search of America by John Steinbeck. This book is now on my to-read list as it is one that inspired Jeff to be an historian.
...
Nearly finished with The Escape Artist by Jonathan Freedland.
Two young boys/men escaped Auschwitz miraculously and lived as witness to the horrible truth of Nazi cruelty and war crimes. For Walter to live through this horror and compose this book is a feat that few could accomplish.
Determining truth versus lies and facts versus propaganda requires constant vigilance, brave writers, a free press, and trustworthy publishers.
...
Monday, February 27, 2023
Finished Lois Lowry's The Windeby Puzzle. It's a bog-people story during the time of Druids, myths, warring, poverty, strife, death, power, machismo, and a young girl who fought against it all (around 41 BCE).
Lois takes the history and science of the bog and combines it with separate probable stories of a young teen girl and a young teen boy. The preserved bog body is on display at The Landesmuseum at the Schloß Gottorf in Schleswig, Germany
In the meantime, photo below.
...
Wednesday, February 22, 2023
I've started these a couple of times. They are great. Something else always popped up. Now is the time. For sure.
Where would we be without BookTV.
...
...
Tuesday, February 21, 2023
I had a baked potato for lunch and immediately thought of Frank McCourt's story of when he was a kid and had snuck into the kitchen and ate the baked potato that his mother was saving for dinner for the whole family. She was livid; he was ashamed. After all that time, the event was still with him. Just like Proust knew it would be.
And then I finished Peter Sís's The Wall.
If it weren't for brave artists and truth tellers like him, we'd never know. The Iron Curtain (Winston Churchill) is The Wall.
Peter tells what it's like to be a kid and live in a totalitarian state ruled by Russian terrorists in Czechoslovakia after WW II. When he got older, he defected and made his way in the world as a writer and artist.
At the end of The Wall, he lists the attributes of a democratic government versus a totalitarian government:
Hope Inspiration Joy Dreams Respect Love Benevolence Spirit Pride Art Justice Integrity Liberty Dignity Morality Virtue Honor Trust Truth Freedom Wisdom Happiness Equality Knowledge
Stupidity Suspicion Injustice Corruption Terror Fear Envy Lies
...
Monday, February 20, 2023
I finished an autobiography of a famous writer who is also much revered by the book world. But soft-bragging about one's Ivy League education, family wealth, and perfect life is the opposite of Benjamin Franklin's never-tiresome autobiography, which documented frugality, industry, practicality, and independence. For whatever reason, silver-spoons and soft-bragging seem unseemly.
In the meantime I'm between books, AND I'm four weeks behind in the NYT Book Review, which is beginning to feel more like homework instead of joy.
Speaking of which…Be joyful though you know all the facts.
Finally, I was thinking about my top ten movies. And after last night, I've added Tár to the list as number one and two and three as well. Cate will never be able to make another movie that will surpass her brilliant performance as Lydia Tár. Adam Gopnik will agree, I'm sure.
...
Monday, February 13, 2023
"Good books make good people." Patrick Modiano
...
Wednesday, February 1, 2023
I caught Simon Winchester on PBS talking about his new book, Land. This man has a clear picture of humanity and its relationship to the planet. He also has an incredible curiosity and writing talent. His talks and conversations are even better than his books, which can't possibly be true, but tis.
And then, on BookTV, there was Chris Hedges from 2022. His study of and books on humanity, religion, morality, decency, fairness, and peace are based on everything from first-hand experience to a study of ancient texts.
Plus, they both obviously love what they do.
| | |
| --- | --- |
| ... | ... |
Almost finished with my signed copy of Liberation Day by George Saunders.
His short stories to a page capture the many facets of the characteristics of what it means to be a human being.
Of all those lists of personality types, personality disorders, human strengths, human foibles, good intentions, bad results, or just plain quirky types, he's managed to show them all including the petty, the destructive, and the great within each story.
...
Wednesday, January 25, 2023
Demon Copperhead by Barbara Kingsolver. A significant book.
Through fictionalized real-type characters, the book shows how the opioid and addiction problems of the Appalachia region have overwhelmed every health-care agency and every government agency assigned to help.
From the medical sales reps, to doctors, to hospitals, to isolation, to poverty, and to toxic masculinity, it all works together to create addiction, abandoned children, orphans, widows, pregnant teens, black-market medicine, generational unemployment…it's all there.
Damon Fields aka as Demon Copperhead is the main character who needed parents, relatives, housing, education, food, clothing, money, and instead got none of what is considered average/normal/sustainable for a life.
Barbara didn't miss a beat in describing all these families and the exact moments when their lives started a downhill trajectory with no way in sight to make their lives good again.
Barbara portrayed the teachers as competent and always going the extra mile to keep the kids moving forward academically. She was too hard on the social workers, however. She was critical of their ability to keep track of and help the hundreds of kids that each social worker has on her/his roster.
Barbara has written the modern-day Charles Dickens story of want, despair, injustice, struggle, and random acts of kindness (which never seem to be enough).
...
The Man Who Saw Everything by Deborah Levy. Long-listed for the Booker.
So, I finished but came away wondering why a man who was so quirky and many times inept, was so popular with so many different kinds of people.
Weepy, insecure, off-kilter, confused, and not very reliable are the characteristics that first come to mind. The place in time that caused all his problems is right before the Berlin Wall came down.
I was thinking during this reading, it's time to rewatch Emma Thompson and Brendan Gleason in Alone in Berlin right before the wall went up. No one weeped or fell apart at least not in public. They simply went straight to work creating quiet resistance.
And also… It's time to reread The Wall by Peter Sis. One of these days, maybe it will all actually be quiet on the Western Front.
...
It's extraordinary to write a novel as

good

great as Ian McEwan's Lessons: A Novel.
Roland and Alissa…along with Jane and Stefanie (representing alpha and omega) as well as Daphne and Peter the bully. Where are they now?
To create characters that live, die, achieve, fail, falter, recover, transgress, assault, abuse, succeed, aspire, or just bumble around is a mirror of how most people on the planet live, die, achieve, fail, falter, recover, transgress, assault, abuse, succeed, aspire, or just bumble around.
And then to wrap it all up in piano lessons, the Nobel prize, child abandonment, books, music, poetry, power, and truth-seeking is extraordinary.
Thank you Sir Ian. To have this much talent, world knowledge, stamina, and work ethic is…I don't really know what. But it's nice to know that it's out there.
...
Still reading Venomous Lumpsucker by Ned Beauman. Almost finished, and I'm hoping for a hopeful ending. Will the author of a book featuring the Lumpsucker fish allow this very smart species to remain extant? Although the planet is nearing total degradation, Mark Halyard and Karin Resaint will surely prevail in their no-holds barred efforts to save one small fish and its habitat from the industrial-military complex known as winner-take-all capitalism.
Makes me want to immediately read My Side of the Mountain by Jean Craighead George and then invite her and her two brothers to brunch at Sarabeth's on 59th and 6th in NYC.
I remember my dad and I talking about this Mountain book as well as Out of the Dust by Karen Hesse. That may be the real reason to read books.
...
Live. BookTV. Today.
Chris Hedges did a wonderful job talking about his work as a journalist, professor, writer, scholar, minister, and humanitarian.
Peter Slen, as always, did an equally wonderful job of letting Chris answer complex questions in a timely and thorough manner.
I did text in a question that they didn't get to: "If we as a nation want to keep capitalism as our monetary system, what needs to be done to clean it up and make it fair?"
Chris paid homage to Noam Chomsky, Susan Sontag, and Cornell West. He talked for two hours about ideas, data, writers, movements, history, governments, his family, and the books he has written. He did all this without notes, without missing a beat, and with a profound sense of purpose.
If we had a US Department of Culture, he'd be the one.
...
| | |
| --- | --- |
| ... | ... |
Nothing like it.
Tuesday, December 27, 2022
Clipping articles from the paper is a lost art. But my scissors are sharp and here's the paper. So…
Chris Hedges is LIVE on BookTV on Sunday, January 1, 2023.
I can say without fear of successful contradiction that he has influenced my thinking more than any other writer, thinker, or activist other than, of course, my high school music teacher.
...
Friday, December 23, 2022
In the first eleven pages, there are 17 characters…none of them main…all of them peripheral…or not.
I keep having the urge to create a spreadsheet/flowchart to keep track of everyone.
A Visit From the Goon Squad. Disappointing.
Proust…one main character. Just saying.
Plus, there's a sequel. And it appears that everyone in the literature business loves both of these books. Something is askew. C'est probablement moi.
In the meantime, I'm moving on to Barbara Kingsolver's Demon Copperhead as soon as all the eggnog is gone.
Finally, Prue Leith in By the Book in response to the question, "What's the best book you've ever received as a gift?" answered "My first husband (he died 20 years ago) gave me a specially-bound-for-me little booklet of "Le Bateau Ivre," a long poem by Arthur Rimbaud. I was studying Rimbaud and Baudelaire in Paris at the time, and I was 100 percent in love with Rimbaud. So, it was a good move. I still have it by my bedside."
Moi again. I include this quote, because Arthur Rimbaud seems to be referenced in almost everything I read lately.
...
Wednesday, December 14, 2022
Finished reading Sugar Street by Jonathan Dee yesterday. I don't remember how this book came across my desk. The Times Book Review? Probably. But then again. Maybe not. I'm not ready to read the reviews of this book before I actually decide what I think about it.
It wasn't really clear until late in the game why the main character was on the run. And as it turns out he wasn't a very competent criminal. Plus, who stole his money? That seems like a critical plot point that should have been made crystal clear. Autumn? Oscar? A neighborhood kid? Or did the guy just misplace it.
Also, at several points, it got a bit too Lolita, which made the guy VERY and SUDDENLY unlikeable. Up to that point, I was sort of rooting for him. Then again…a travel agent?
In the end, the book reminded me of the university administrator who abandoned his life by disappearing to Mexico from Wisconsin or Minnesota or someplace north as I recall. He took cash, stayed unknown, and tried to vanish. As I recall, this took place before internet, cell phones, tracking, surveillance, etc, and yet he still got caught. Hmm. Book's name? Still looking.
In the meantime, something from long ago and probably very wholesome…The Hundred Dress by Eleanor Estes.
...
Sunday, December 11, 2022
Susan Linn published a new book, Who's Raising the Kids? Big Tech, Big Business, and the Lives of Children.
Her thesis is that children are only ad revenue to the tech companies (the four listed above in particular) and that these four companies do not know anything about child development, brain development, or the social-emotional growth of young people in general. The tech companies (the four listed above in particular) care about children only to the extent that children relate to ad revenue. Seems like a shameful occupation. The term related to Linn's book is ad-cultivated addiction.
Another book in the news is The Passenger by Cormac McCarthy. After reading the reviews, it seems obvious that I'm going to read The Passenger, but I'm almost scared to begin. Too dark? Possibly. But not as dark as ad-cultivated addiction.
Just finished Bonnie Garmus's Lessons in Chemistry: A Novel. Elizabeth, Mad, Harriet…all such interesting characters that the book was hard to put down. Supper at Six. "Children, set the table. Your mother needs a moment to herself." I wish I hadn't already read it, then I'd have the pleasure of reading it all over again.
Barbara Kingsolver's new book Demon Copperhead is on the bedside table as is George Saunders's Liberation Day, which I've started. But. The violence in the first story about Custer is really too much. I'm almost scared to finish it.
But then lined up are three back copies of The Book Review, which will undoubtedly point me in the direction of brand new must-reads.
And finally, I'm waiting for the Provensen Book of Fairy Tales by Alice and Martin Provensen. But. Wait. The release date is September 16, 2024. ?
In the meantime, the season is here with the 15th year-in-a-row of a Christmas card from Jimmy and Rosalynn Carter.
...
Thursday, December 1, 2022
Lessons by Ian McEwan. What a triumph.
Combining a young boy's piano lessons with life lessons from beginning to end is a lasting work of genius and scholarship. Lessons reminds me of Tom Stoppard's work and also of Karl Ove Knausgaard's as well as Uwe Johnson's Anniversaries: From a Year in the Life of Gesine Cresspahl in how they each have addressed world wars, totalitarianism, and government oppression and how those factors influenced people's daily lives without people even understanding their personal dilemmas and missteps.
Within all these books there exists a place for rock music, which sought to upend all the brutality and violence of those decades. The music never really succeeded on a permanent basis because here we still are… And yet, the music tried.
The characters were perfect and perfectly flawed in this book.
Roland needed better parents.
Alissa needed more humanity.
Daphne needed less competence.
Peter needed more maturity.
And Lawrence needed more stability and more support for his genius in maths.
The book is a success in every way. The sociological statements, the stories of the characters' lives, and the representation of the subtle and direct impact of the world on the small details of daily life are all included.
After letting all of this resonate for a bit, I will read Bonnie Garmus's Lessons in Chemistry: A Novel, whose cover is comfortingly reminiscent of Where'd You Go, Bernadette by Maria Semple. Lots of lessons to be learned.
...
Monday, November 28, 2022
It's been a minute. Then again, it's flown by.
And it's obvious, I need the book critics to give me the best insight into what makes a good book good. Almost finished with Lessons by Ian McEwan, and I'm not sure about it. Maybe too soon to tell.
I've seen enough interviews with Sir Ian to know that he is not Roland, but wow…poor Roland.
...
Saturday, November 19, 2022
Elizabeth Strout writes serious books. Just finished her Lucy by the Sea. It's all about the pandemic, marriage, the wealthy, NYC, and Maine. I suppose excessive wealth that allows ownership of multiple apartments in NYC and then a subsequent purchase of a new home in Maine is not something one should take for granted. And yet, Lucy and William never discuss this aspect of their lives. This wealth.
A major thing that didn't ring true about Lucy as an accomplished and savvy New Yorker was when she left Maine to go back to NYC to visit and was SO surprised to see so many homeless people in Grand Central.
Living in a bubble (whether it be wealth, ideology, privilege, or choice) is always risky.
Morning walks by the sea. Breakfast on the porch. A wealth-enhanced Maine cottage. Travel. A generous publisher. Nice! (Though not really a B dot Franklin lifestyle of frugality and industry.)
It was nice to read that Olive was volunteering in a nursing home. (Yes, that Olive.)
...
Friday, November 11, 2022
After serious books, something less intense…Patti Lupone: A Memoir. I've read it before and am reading it again. Julliard. Italy. Broadway. Italian. Perfect.
...
Thursday, November 10, 2022
Annie Ernaux won the Nobel Prize in Literature for 2022.
So, I just finished her Shame. The ways in which she combines her own stories with the qualities of good literature are Nobel worthy…without a doubt.
I was skeptical at first on the first page at the first line, but in a bit I was there…in a great book.
...
Texas Book Festival. Live. Today. It's humbling.
Mark Updegrove is the Director of the LBJ Foundation in Austin. He was the keynote speaker and talked extensively about LBJ's leadership in Texas, Congress, and in the White House.
Also included in his talk were historical facts and stories of how presidents from the last 100 years handled civil rights, voting rights, democracy, and education. He explained about Eisenhower's interstate road-building program and his devlopment of NASA, Nixon's Environmental Protection Agency, Truman's life after the White House, and Johnson's establishment of ESEA as well as funding for higher education in 1986.
Then it was on to Douglas Brinkley who has never uttered a wrong word, and today was no exception. He discussed conservation, environmental issues, specific sites that require attention, and various Presidents who established protections for the planet throughout the last hundred years.
Also on this panel was Maya Van Rossum who is saving the Delaware River and all its tributaries. She also spearheaded the effort through the Pennsylvania state Supreme Court to shut down fracking in Pennsylvania. The state Supreme Court agreed that fracking violated people's constitutional rights to have clean air, clean water, and a healthy environment.
The book festival was all live.
Another session was with Jeremy Suri and Nick Seabrook who identified the biggest current political problem: gerrymandering. Easy to see…hard to fix.
Finally, I was reminded of a glorious year of BookTV's In-Depth interviews.
The Fiction Edition in 2018:
All Live. All perfect. And, of course, Peter Slen orchestrated it and made it all possible.
...
Saturday, November 5, 2022
Bookish People by Susan Coll…finished today, but I'm still wondering what happened to Clemi's dad, why is Clemi's voicemail always full, is a tortoise really a good pet, what was the smell in the store room, why buy such an unwieldy vacuum, what will happen with the secret nook, why did Florence set herself on fire, what happened to the guy who liked to drill holes, should one be so nonchalant concerning towed cars and missing vans, does Ann Patchett have this many simultaneous problems in her day-to-day Parnassus endeavors?
Next up? Still…Lessons by Ian McEwan.
...
Tuesday, November 1, 2022
From time to time, I think about André De Shields who won a Tony in 2019 for Hadestown.
In his acceptance speech, he gave three pieces of advice for living a worthwhile life:
1) Surround yourself with people whose eyes light up when they see you coming.
2) Slowly is the fastest way to get to where you want to be.
3) The top of one mountain is the bottom of the next, so keep climbing.
His message was a gracious and picture-perfect performance. Brought to us by pure talent, unflagging perseverance, and a heart-healthy dose of…The Arts.
...
Tuesday, October 25, 2022
Today, I'm trying to finish The It Girl by Ruth Ware, but it so closely resembles that Italian story of the murder of a college girl that it's hard to keep the two events separate.
Also, I keep comparing the It book to Cynthia Ozick's book Heir to the Glimmering World in terms of depth, complexity, social commentary, history, imagination, and perfect word after perfect word.
A whodunnit versus a book to reread.
4-stars @13,242 versus 3.5-stars @221
And then finally, I think I'll just scoot on over to the next book queued up and waiting impatiently...Lessons by Ian McEwan.
...
I was thinking about movies today and remembered these three actors:
Colleen Dewhurst 1924-1991 age 67
Geraldine Page 1924-1987 age 62
Maureen O'Hara 1920-2015 age 95
...
In 20+ years of watching BOOK

TV

(since it's inception in 1998), I have never been disappointed in listening to the ideas and reviews of the thousands of people who have written books and been interviewed…both live and taped.
Today, four big thinkers talked about their books and did a flawless job, AND it was live:
The Last Slave Ship: The True Story of How Clotilda Was Found, Her Descendants, and an Extraordinary Reckoning (about Thomas Meaher's human trafficking in 1860 and its ongoing trauma and damage to the people of Africatown, Alabama then and now).
The Devil's Half Acre: The Untold Story of How One Woman Liberated the South's Most Notorious Slave Jail (about Mary Lumpkin's [1832-1905] life and extraordinary fortitude).
The Monster's Bones

: The Discovery of T-Rex and How It Shook Our World

(about the discovery of the first T-Rex which is now in the Carnegie Museums of Pittsburgh while pieces of the second and third T-Rex are at the AMNH. Barnum Brown (1873-1963) was the paleontologist extraordinaire who orchestrated all the digging in 1902).
The Many Lives of Andrew Young (about his accomplishments, work ethic, and leadership for civil rights and beyond…Andrew Young [1932- ]).
...
Finished Less is Lost by Andrew Sean Greer. Had my doubts that I'd finish, but once Arthur set out on his across-America adventure as a Minor American Novelist, the book couldn't be stopped.
The phrase to remember, in addition to Minor American Novelist, is:
But will I remember what it means? Time will tell.
And now it's on to a rereading of Mantel Pieces by Hilary Mantel (1952-2022). This book of essays is SOOOOO good because Hilary dissected and critiqued books for the LRB in a fearless and forthright manner.
Words, phrases, and perspective…all perfect.
...
Finished The Winners by Fredrik Backman.
There were a lot of characters to keep track of, and this meant remembering if the characters were from Beartown, Hed, or both (meaning some worked in one town and lived in another).
All the characters sort of looked alike in my head, which was okay because the book was about power, money, and violence via the stories of boys and men in sports (as well as the tangentially placed girls and women who were also part of it all).
As I finished the book, I was thinking about the education these young ice-hockey players had received. It appeared…not much.
And this led me to think about the autobiography of Louis L'Amour (1908-1988) who wrote about his own education. Power, money, and violence on one end of the spectrum versus education on the other.
"If I were asked what education should give, I would say it should offer breadth of view, ease of understanding, tolerance for others, and a background from which the mind can explore in any direction."
Sounded good when I read it 30 years ago and sounded good when I read it again yesterday.
Education of a Wandering Man ©1989.
...
The letters to the editor of the NYTBR are one of the very best parts of the Sunday NYT.
And on Sunday, September 18, 2022, page 6, there was a letter from Dorchen A. Leidholdt. Dorchen wrote in reference to a NYT photo of a group of women who were fighting for women's rights in 1979.
She explained that the photo had been used in a book review without acknowledging the women by name. And then, guess what? Dorchen provided the names.
Dorchen herself on the far left and then moving from the left:
Is there anything better than these letters in the Book Review? Maybe (just maybe) the book reviews themselves.
Snapped about a minute ago.
Friday, September 30, 2022
The Winners by Fredrik Backman is almost too much (even at the 40% mark). It's very dark and tells the stories of what happens in communities where violent sports are tolerated and applauded (ice hockey).
Strength, leadership, winners, manliness. Those are the only things that matter.
The book is about these human attributes and the damage they cause. But in the end, it's mostly about money (at least in this book it's mostly about money, which so far reads pretty true).
Dissonance versus harmony. Which sells more tickets?

| | |
| --- | --- |
| ... | ... |
Friday, September 23, 2022
July 6, 1952 – September 22, 2022
A loss. And she without a coin.
Photo by Els Zweerink in the NYT.
Thursday, September 22, 2022
At first I was somewhat disheartened to read a book that was immediately confusing and jumped back and forth in time several decades for the first story/essay.
It was also somewhat disappointing that I didn't realize that this was a book of essays rather than a novel. But because the book got such glowing reviews, I thought I'd continue.
And I'm glad I did even though I'm cautious about a person's personal journey when it gets too personal.
So, The Crane Wife by C. J. Hauser and two others are on my mind.
A Woman of No Importance: the Untold Story of the Woman Who Helped Win WWII by Sonia Purnell.
Madame Fourcade's Secret War: The Daring Young Woman Who Led France's Largest Spy Network Against Hitler by Lynne Olson
Next up: Andrew Sean Greer's Less is Lost.
Ian McEwan's Lessons
Ruth Ware's The Lying Game
Footnote: I wish I had my books organized by Dewey decimal instead of by a timeline of when I read them. At least they're not organized by color or size and are findable…eventually.
...
Wednesday, September 14, 2022
On this bright, sunny day with rain nowhere in sight, I have three thoughts.
1. The It Girl by Ruth Ware. I am person number 165 on 45 copies of this ebook at the library.
2. I had a friend once who said that pizza was nothing more than a mound of grease and salt. Still. And. Never. The. Less. I'd like a slice.
3. Even though I'm in the middle of reading several different books, my mind still returns to specific books for their sheer impact:
Building Stories by Chris Ware,
Lincoln in the Bardo by George Saunders,
The Lincoln Highway by Amor Towles,
Things Fall Apart by Chinua Achebe,
The God of Small Things by Arundhati Roy,
The Map and the Territory by Michel Houellebecq,
Mirrors by Eduardo Galeano,
all six volumes of My Struggle by Karl Ove Knausgaard,
A Man Called Ove by Fredrik Backman,
T
he Goldfinch by Donna Tartt,
The Book Thief by Markus Zusak and read flawlessly by Allan Corduner,
Dear Genius The Letters of Ursula Nordstrom by Leonard S. Marcus,
Avid Reader by Robert Gottlieb (on which I have just now checked and found two copies of this exact same book on my shelves…why does this keep happening?),
and finally Elmore Leonard's 10 Rules of Writing.
Johannes Gutenberg in 1439 had no idea what his printing press was destined for.
...
Friday, September 9, 2022
Jill Lepore has written an extraordinary book about Jane Franklin. Jill researched boxes of letters, documents, pamphlets, papers, flyers, newspapers, books, notes, paintings, and monuments in order to understand Jane's life.
Jane was as smart as Benjamin.
She did not receive formal education.
She used invented spelling and wrote a lot of letters (most now missing).
She had twelve children with one surviving.
She made soap and sold it.
She made embroidery and bonnets and sold them.
She understood industry and frugality as a goal of life.
She was a believer in providence.
She knew about the almshouse and mental illness.
She was there when tea went into the Boston harbor.
She loved books and was self-taught.
She was obscure in the eyes of history.
She should be on the back of the hundred-dollar bill.
March 27, 1712 – May 7, 1794 (aged 82).
Jill Lepore was on C-SPAN live for 2 hours with Peter Slen on October 4, 2020. The effort to write this book was significant. And yet it's just one of many books that Jill has given the world of academe and history.
Book of Ages.
How does the world produce a Jane, a Jill, a Virginia, a Greta?
...
Saturday, September 3, 2022
Two wonderful sessions among many wonderful sessions stood out at the LOC National Book Festival today (live on BookTV and thrilling).
Her book explains the Sandy Hook tragedy and highlights the difference between truth and conspiracies.
In 2007, there were five million tweets per day.
In 2012, there were five million tweets per second.
That's how fast lies can travel and change reality.
She gave a brilliant talk about deep-sea life. She recommends spending ninety billion dollars exploring the ocean before Artemis is again scheduled to explore the moon. Hard to argue with that.
She researched coral reefs and explained that the coral is a little animal that produces an external skeleton, and in that external skeleton grow algae which are green. Coral must live near the top of the ocean in order for the algae plants to stay alive via sunshine. Millions of small fish live in these coral skeletons and provide the start of the ocean's and life's food chain.
Thursday, September 1, 2022
August 26, 1941 - September 1, 2022
I met her at a book signing. It was a wonderful conversation. She was very interested in and knowledgeable about everything. Ben Cheever and Michael Moore were there, too. Ages ago. But it was unforgettable.
Nickeled and Dimed: On Not Getting By in America.
...
Saturday, August 27, 2022
The NYTBR is getting the better of me. I'll have to focus more deliberately if I'm to catch up on all the reviews of all the great books.
Making a start includes C. J. Hauser's The Crane Wife.
Then, it's Fredrik Backman's The Deal of a Lifetime.
Also, it's Path Lit by Lightning by David Maraniss.
Currently, finishing The Book of Ages by Jill Lepore and A Woman of No Importance by Sonia Purnell.
I was reading Excellent Women by Barbary Pym, but then I discovered I had already read it in 2017.
Cued up on the ipod for an evening walk (yes, I know it's been pronounced obsolete, but there you have it…the ipod not the walk) is A Little Night Music with Hermione Gingold and Glynis Johns.
...
Finished The Maid by Nita Prose.
A brilliant book encompassing invisible worker bees, below-sustainable wages, autisim, drug cartels, cleanliness, betrayal, loneliness, companionship, and the exact right ending.
The autistic aspect of The Maid

(although the word autistic was never used in

The Maid

)

reminded me of the book/Broadway play The Curious Incident of the Dog in the Night-Time starring Alex Sharp. It was the most extraordinary performance I've ever seen.
The other connection to this book is an interview on an NPR type show that featured an autistic man who had received medical treatment to lessen his symptoms. When his symptoms lessened, he was able to remember and understand all those people who had made fun of him, tricked him, laughed at him, and played jokes on him. Remembering those people and times was overwhelming for him.
The Maid Molly never received medial treatment but did get better at reading expressions, knowing whom to trust, and finding the right people, just by luck, who stood in her corner.
One of the best scenes in the book was when she and a dubious and supposed boyfriend took her to Olive Garden where she wanted to order the Tour of Italy dinner. That order never materialized, but she did plan right then that someday she would take this supposed boyfriend to Italy where they would go eat at Olive Garden.
The drugs, the police, the judge, the jail, the detective, the hotel manager, the immigrant, the drug lord, the hotel laundry in the steamy basement, the lawyer, the doorman, the gun, the wives, Molly, and finally, Gran.
It all works together for a perfect story.
...
Saturday, August 20, 2022
Michael Pawlyn was on Jon Richardson and the Futurenauts podcast recently.
Michael is a systems analyst.
His life's work revolves around planetary conservation.
regenerative vs sustainable
carbon oxygen nitrogen hydrogen
One of the most interesting aspects of his talk was the notion that sustainable projects are inadequate (he cited the Bloomberg HQ in London).
The only action that will sustain and repair damage to the earth wind water and sky will be regenerative housing, farming, traveling, schooling, and everyday living. That is…putting more in than is taken away.
Carbon footprint? Not near enough positive results from this marketing ploy and is actually the wrong phrase.
Regenerative actions…the right way to go.
More than one million earths would fit into the sun.
Jeremy Fink and the Meaning of Life by Wendy Mass.
Mr. Oswald the antiques dealer
Reminiscent of Quantum Leap wherein wrongs are made right and also Incredibly Loud and Extremely Close wherein a boy won't use the subway. Also, a little bit The Goldfinch by Donna Tartt.
Jeremy only eats peanut butter sandwiches. Nice touch.
One by One written by Ruth Ware. Suspense. Crime. Resolution.
Finished this book today and found it engaging and suspenseful. Young, semi-educated people make a lot of money in the dot-com era, puff up, and then quickly lose it all. In the end, lots of damage.
FOOTNOTE: In this book, there was a lot of technical info about skiing in the mountains, which makes me think I will never be a skier, but a nice cup of milky coffee will always be welcome.
...
David McCullough (1933-2022)
His books and his BookTV lectures are a testament to the pursuit of happiness.
His obituary written by Daniel Lewis in the Times:
"McCullough spoke of the founders' notion of the pursuit of happiness — which, he said, did not mean "long vacations or material possessions or ease." Rather, he said, 'as much as anything it meant the life of the mind and spirit.'"
.˙. Happiness = the life of the mind and spirit
McCullough's research was in depth and relied on libraries and librarians for Adams, Truman, The Johnstown Flood, The Great Bridge, and all the rest.
He regularly paid tribute to the nation's five best research libraries and their librarians:
...
Ruth Ware writes suspenseful crime novels. In a recent By the Book interview, she was asked which three writers she would invite to a dinner party.
If she wanted to impress people, she said, she'd invite Chaucer, Shakespeare, and Emily Brontë.
However, if she were being truthful, she said, she'd invite those who
write crime novels.
If By the Book were to ask me who I'd invite, I'd invite Fiona Shaw, RBG (I know), Kate DiCamillo, Susan Orlean, Alan Bennett, and Robert Gottlieb.
Plus for the big picture issues, Neil deGrasse Tyson and Peter Higgs, and obviously, Jamie Dimon…to pick up the tab.
...
Wednesday, August 3, 2022
Finished The Ninth Hour by Alice McDermott.
This book clearly captures the pain and suffering that women have endured since the beginning of time. The book doesn't invite sympathy but rather it paints a picture of generational poverty that just won't go away.
Statistically, most people live lives of noodle salad and warm slippers by the fire. The question is why can't everyone?
This is a very brave book. I don't recall how it came my way, but there you go. Worthwhile things abound.
Alice and her book.
It's the oddest sensation.
You start the book and feel like you've seen the movie. But you can't recall.
So, you think for a minute more, and voila. There it is. You've read this book before. Twasn't a movie after all, but the book's scenes were so well written that it imprinted as though they were movie images.
The Ninth Hour by Alice McDermott.
...
So…James Patterson in his autobiography mentioned Mrs. Bridge and Mr. Bridge, which are two novels by Evan S. Connell.
James said both of these books written in 1959 and 1969, respectively, were instrumental in James's telling of his own stories. Short chapters, short sentences, fast action.
I've just finished reading them both. He's quite right.
Evan established the short chapter, short sentences, fast action genre, and did it exceptionally well.
Published in the mid-century before civil rights and women's rights were unquestionably the law of the land, these novels make the picture clear.
There was a lot to rebel against unless you were part of the country-club set.
Things are, of course, better now unless you read Banksy. The newest Banksy book is by by Stefano Antonelli and Gianluca Marziani, and I want it even though it's $40.
Throughout his works, Banksy illustrates with gorilla strength that the 50s simply are not that long ago. The past isn't over...it's not even past (Faulkner).
Walter-the long-suffering father…given the power to always know best
India-the perfect mother who had no life except to raise perfect children
Ruth-the eldest rebellious daughter
Carolyn-the middle daughter who married poorly
Douglas-the son who was privileged, argumentative, and lazy
Harriett-the hired help who ran the house
Julia-the hopefully sad office secretary
The book matches Marilyn French's The Women's Room and Betty Friedan's The Feminine Mystique in terms of enough is enough.
These two novels by Evan Connell are works of sociological research presented as a story of quiet desperation. And even though Paul Newman and Joanne Woodward starred in the movie, the better movie about this era stars Julia Roberts in Mona Lisa Smile, which made Jackson Pollack's painting necessary.
...
Finished the Patterson book. The best parts were the beginning to the middle when he described his years growing up and getting started as an ad man, a writer, and finally an entrepreneur. He really hustled all through his life and is still hustling to support books and readers.
The final best part was a list of meaningful books he's read throughout his life.
Short chapters. Concise sentences. Lots of action. That's his stated routine for writing his books. Also. He listed all of his cowriters who are each his favorite.
He endorsed a university reading program for kids without having even one ounce of knowledge about the literacy research of the past 70 years. And that research totally debunks the specific university and its research he embraced and endorsed. I wonder if he also has steadfast opinions about how surgeons should perform appendectomies.
And finally for the day and after catching up on the NYTBR, I've decided to study more about Barbara Pym and her work. I'm also interested in the philosophical writings of Iris Murdoch although I'm sure they're way over my head.
I'm also interested in the new book by Thomas Piketty. He has the whole capitalism, inequality, participatory socialism, communism thing all figured out. It's his mission as a thinker. How the world produces people like him is a miracle. And a good one.
It would be interesting for Lena Waithe (The Chi [shy]) to sit down wtih Piketty and share her insight into the economics of life as she sees it.
There are two new books on the nightstand:
Jill Lepore's Book of Ages: The Life and Opinions of Jane Franklin (Ben's sister)
Alice McDermott's The Ninth Hour: A Novel
Also… At some point in the near future, it'll be Susan Orlean's On Animals.
...
Starting James Patterson by James Patterson. The blurb in the NYTBR was hilarious, and who doesn't need a bit of hilarity to start the week.
...
Elif Batuman recommended a couple of books from her interview in the NYTBR: The Wind-Up Bird Chronicle by Haruki Murakami is one I've just started. Hmm. I'm actually looking for books with less metaphor, fewer descriptions, and characters who are able to verbally communicate with each other without becoming smaller.
Amor Towles, Fredrick Bachman, and Iris Murdoch come immediately to mind…not to mention Christopher Paul Curtis and Wallace Stegner.
The other books in my cue are The Idiot: A Novel and Either/Or both by Elif Batuman, both of which may be beyond my grasp.
Plus, I'm getting back into Sonia Purnell's A Woman of No Importance, which is a book close to another great book, Madame Fourcade's Secret War: The Daring Young Woman Who Led France's Largest Spy Network Against Hitler by Lynne Olson.
And finally, James Patterson by James Patterson is obviously a book by James Patterson…can't wait on this one. It'll probably jump the cue. Most likely.
July is always busy.
The NYT had an extended interview with John Grisham recently. The piece wasn't all that flattering I fear. He started out his professional life as an underpaid lawyer. He wanted more money so he tried writing novels and has 30 years later been wildly successful.
This seemed like a good time to read a couple of his books. They aren't quite as compelling as I'd hoped. Lots of characters…sometimes identified by their first names, sometimes by their last names. Maybe my attention is elsewhere.
The book is about corruption, casinos, judges, hit men, too much money, too few investigators, and ultimately, excessive greed. Next up? Still deciding.
...
And. Per usual, behind in the NYTBR where I will undoubtedly find the next big book.
I've got The Splendid and the Vile by Erik Larson as well as A Woman of No Importance by Sonia Purnell both partially read.
I've sort of set aside WWII books for the moment while I catch my breath.
Something will come my way, per usual.
...
Up Front ©1945 by Bill Mauldin (1921-2003) is an extraordinary book about WWII. The brutality, truth, and honesty in this book should make all current and future wars unfathomable, and yet…here we are.
Bill drew cartoons about Willie and Joe as they lived in mud-filled trenches in Italy and France in the 40s. Bill was anti-war, anti-slacker, anti-lazy officer, anti-graft, anti-corruption, anti-the rear echelon, and pro-medics, pro-front line COs, and very much pro-the enlisted man on the front lines.
The cartoons were published in the Stars and Stripes and other newspapers and helped keep morale and truth up front.
In this 1945 book, Bill adds the text that shows what war is actually like for the front lines. It's never good. But he documented the camaraderie that made staying alive possible.
In Sebastian Junger's book, Tribe, there is evidence of the same kind of comradeship that allows "sojers" to keep on.
I learned that trench foot is actually a disease of the foot from being in watery, icy, muddy trenches where the feet swell, skin cells die, and then the feet require either advanced treatment or amputation once the boots are removed.
It was a difficult book to write and difficult to read but necessary to understand the savagery and waste of war.
Professors at West Point teach all this and more. And yet...
| | |
| --- | --- |
| ... | ... |
Karl Ove Knausgaard called it a masterful novel. So, it must be me. But, I didn't quite get it. The most interesting character was the minor character played by the Russian grocery-store shopper. I did finish the book and found it interesting in technique. It flowed back and forth over a twenty year period and didn't miss a beat. Checkout 19.
And then In Defense of Witches was a treatise on the misused roles of women in history. I could have used more headings, shorter chapters, and less repetition. It did effectively compare the work of Betty Friedan with the work of Gloria Steinem. I'm not looking for a beach read, but I am looking for a book with characters who stick…always looking.
Next up on the kindle is A Woman of No Importance by Sonia Purnell. Seems like quite a story. It's a WWII resistance story, and who doesn't need more resistance.
Lean In
...
Sam Quinones was live on BookTV today for two hours. His areas of expertise include immigration, drugs, communities, and people's needs.
He's an independent journalist and writer. He did a splendid job.
He understands the drug trade from Mexico to the US and stated that Fentanyl is the biggest problem currently. The production of this drug is easier than other plant-based drugs because it requires no land, no farming, no sun, and no tilling.
It's a chemically made drug and so flies below the physical surveillance radar. It enters the US through various sea ports along the coast. He's studied the drug problem and relates it to guns, shoplifting, sea ports, addiction, the economy, and lives controlled and lost.
But his commitment to documenting the problem is significant. When he was asked how closely the TV show Ozark is to reality, he indicated not much. Still, Laura Linney and Jason Bateman portray the money and illegality of it all to a high degree.
BookTV. Peter Slen. Always leading.

...
It doesn't seem quite right. Booker Nobel On and On.
John Banville's The Sea is a blend of Proust, The Graduate, Humbert Humbert, Arrested Development, and the OED.
John Updike advised to critique a book on the basis of what the author intended to write rather than what the author wrote. I'm not sure. The sea plays a part…maybe that's it. The ebb and flow of life.
Max, Anna, Claire, Chloe, Myles, Connie, Carlo, and finally Rose.
The book was not as compelling (although it does capture the grandly darker side of life) as The Map and the Territory or My Struggle, and the darkness of it did leave me wondering about the potential of humanity to rise.
There was quite a bit of press about Banville's concern with prizes and money, which was all a bit untoward, but the press probably got it all wrong although writers must eat.
Sea Fever
I must go down to the seas again, to the lonely sea and the sky,
And all I ask is a tall ship and a star to steer her by;
And the wheel's kick and the wind's song and the white sail's shaking,
And a grey mist on the sea's face, and a grey dawn breaking.
I must go down to the seas again, for the call of the running tide
Is a wild call and a clear call that may not be denied;
And all I ask is a windy day with the white clouds flying,
And the flung spray and the blown spume, and the sea-gulls crying.
I must go down to the seas again, to the vagrant gypsy life,
To the gull's way and the whale's way where the wind's like a whetted knife;
And all I ask is a merry yarn from a laughing fellow-rover,
And quiet sleep and a sweet dream when the long trick's over.
I bet Sea Fever reminds Banville of his book, too. All in all, a very fine read. One that will linger.
...
Could have been titled Where's Ben?
Instead, it's The Paris Apartment by Lucy Foley.
Each chapter is a couple minutes long and revolves around only a few characters who each speak in first person in their own chapters.
Ben, Nick, Jess, the Concierge, Mimi, Antoine, Jacques, Sophie.
Poor Mimi can't find a boyfriend.
Poor Antoine can't be nice.
Poor Jacques can't count all his money.
Poor Nick can't tell the truth.
Poor Concierge can't be treated right.
Poor Jess can't find Ben.
Alas, there is no character named Beauregard, which sounds so very French.
Also, the City of Lights doesn't seem so splendid anymore.
For the record, best book ambassadors ever:
...
A day in traffic, five items out of stock, patron number 251 on a waiting list of 40 copies of The Paris Apartment, and I'm all set for the doldrumy hmphhhs. So.
Now's the time to reread a vintage book by Jean Craighead George titled, My Side of the Mountain, which is just about my favorite book of all time besides:
The Map and the Territory
Dear Genius: The Letters of Ursula Nordstrom
And a few hundred others.
...
The Christie Affair by Nina de Gramont
Finished this. Took awhile. Can't say why. It's a mystery.
What could have happened if Agatha Christie's husband, Archie, had purchased their baby from a Catholic orphanage in Ireland in 1919?
This book convincingly portrays that event via all the usual suspects…intrigue, mystery, cruelty, justice, and the ravages of war.
Agatha, Archie, Nan, Chilton, Finbarr, Teddy, and the nanny Honoria.
Catholicism, WWI and then WWII, abandoned houses, tins of tongue, bottles of wine, various breads, cyanide, strychnine, and life goes on for better or worse.
"It was Hamlet, wasn't it, who said, 'One may smile, and smile, and be a villain.'"
"The world had offered no justice, so we made our own."
...
I don't know much about Jennifer Haigh, but I finished her book Mercy Street: A Novel.
It's dark. But it exactly captures current and past deliberations on the status of women in society.
Claudia, Tim, Anthony, Victor, Deb, Nicolette…
All trying to make it in Boston.
The book is centered around a women's health clinic serving women who have been left to hold up their half of the sky pretty much on their own.
The characters' situations are all pretty bleak and seemingly without end made worse by talk radio, dark websites, too many boyfriends, alcohol, drugs, poverty, limited educational opportunities (BU, Harvard…where art thou?), and general societal malaise.
I was reminded of the Social Readjustment Rating Scale which compares 43 stresses of life to the health of individuals.
The characters in this book experienced nearly all of these stresses and had little support except for themselves.
Support as defined by happiness research includes: family, friends, worthwhile work, health, and financial stability.
It all sounds pretty simple to live a stable life, and yet Claudia, Tim, Anthony, Victor, Deb, and Nicolette had little access to happiness.
It was a lot for one book. But. Glad it came my way.
And finally, I had a technical observation about writing as I made my way through the book's many characters. It was somewhat difficult to keep track of the characters when they didn't have stated physical attributes. The one person who did have a stated physical attribute was easy to visualize since she was described as having dark, angry eyebrows.
A quote from The Hidden Brain podcast:
Mercy Street by Jennifer Haigh
The Shadow in the Garden by James Atlas
I is Another by Jon Fosse
The Christie Affair by Nina de Gramont
The show's a winner. And then both books. In my hands.
Julia's Boeuf Bourguignon…page 315
Judith's Blueberry Soup…page 96
...
There couldn't be any better live interview on BookTV than the one with Peter Slen and Noam Chomsky today for two hours.
He spoke at length about Ukraine, sanctions (legal ones and illegal ones), the role of the UN in legal sanctions, climate change effects, unions, civil rights, and the world's immigrants. He also said that President Eisenhower was the last great conservative president in the original definition of conservative.
Noam's memory about documents, leaders, governments, books, economics, the Great Depression, and totalitarian governments was flawless. He answered a dozen questions from viewers and gave concise and historically contextualized answers. It was really something to watch.
The first book that put him on the map as a public intellectual was Syntactic Structures ©1957. Oddly, this book nor his work in linguistics was not discussed.
I located my copy. It is dense with theory, examples, explanations, and answers as to how language works.
Noam is a world treasure. He gave us his all. AND. He has two new books coming out this year.
...
Bits and Bobs of This and That: Women's Work
The real reason to watch Killing Eve is to see Fiona Shaw deliver flawless performances as a clever agent and savvy observer of human nature. Plus, she gets to deliver all the best lines.
And of course since "April is the cruelest month," Fiona and Alec Guinness in various online clips share T.S. Eliot's "The Waste Land."
Also, Fiona was interviewed by Al Senter for the National Theatre. It's now a podcast but used to be a video, with said video seeming to have been scrubbed from the www. Hmmm.
And then there's also another extraordinary talent who is everywhere…Sally Wainwright of BBC fame. Sally is a writer with out-of-this-world talent. She filmed a carriage scene in Gentleman Jack starring award-winning Suranne Jones (who resembles award-winning Phoebe Waller-Bridge IMHO, also Fiona is Phoebe's character's counselor in Fleabag…small world). In the carriage scene, the carriage supposedly and wildly driven by Suranne accidentally ran over a curb and nearly tipped. Sally used that exact scene in the episode and gave credit to the actual horse-carriage driver…Karen Bassett.
Karen has a horse carriage business in the UK where she is an International expert on all things carriage. She was singularly selected to transport the found skeletal remains of King Richard III to Leicester, England in 2012.
Fiona, Sally, Suranne, Phoebe, Karen
Footnote: Al Senter's interview with Derek Jacobi (similar to his missing interview with Fiona) is still available as a video and is totally splendid. Luck wins the day (according to Sir Derek).
...
When Penelope Lively recommends a book, it's a must.
Capital: A Novel by John Lanchester
It was all there…capital and the lack thereof running lives and ruining the world.
Petunia, Shahid, Roger, Quentina, Zbigniew/Bogdan…all on Pepys Road
London, Pakistan, London, Zimbabwe, Poland
And finally, someone dug out Linda Ronstadt singing Different Drum written by the late Michael Nesmith (1942-2021) of The Monkees and included it at the end of the episode (Mrs. Maisel Maybe?).
A good week. Fore and aft.
...
I've tried. Just can't do it. I need the paper copy in my hands rather than online, and even so, I always seem to be weeks and weeks and weeks behind.
I did find a chuckling anecdote online in By the Book…
Jeremy Denk, Concert Pianist, was asked:
How do you organize your books?
"I asked Alex and he suggested 'towers of random and dangerous heights, reaching dustily toward the heavens, placed for maximum inconvenience and with no regard for rodent infestation.' "
One last thing. I know I should read more Alice Munro. And yet…
...
Wednesday, March 23, 2022
Former Secretary of State Madeleine Albright died today.
Born May 13, 1937 in Prague, The Czech Republic.
Photo by Ruth Fremson for NYT.
BookTV was live at the Tuscon Book Festival today. It was really something to watch as people with expertise came together on panels to discuss various topics. By far, the best was Alexander Vindman who is originally from Ukraine and who has been a US citizen for decades. His analysis was direct, insightful, accurate, and hopeful.
His book is Here, Right Matters: An American Story
UPDATE: Finished Persepolis…an extraordinary book. When power, oil, and religion mix, it never ends well. The book documents the life of Marjane Satrapi as she grew up in Iran and Vienna in the 70s and 80s. I don't think I would have survived. Clearly, her parents were the glue that kept her safe and provided for her education throughout all the terrors of oppression and war of that era.
...
Between books, finished How It All Began, which ended too abruptly, perhaps.
Waiting for spring, and in the meantime, starting Persepolis by Marjane Satrapi. I've read it in the past, but it's time for a reread.
...
I'm well into Penelope Lively's How It All Began. I've read it before, but luckily for me, it once again floated to the top of my desk, and I'm so glad it did.
Two noteworthy quotes from the book:
"she is like millions of others built by books,"
"you worry about the state of the nation, about sixteen-year-olds sticking knives into one another, about twenty-year-olds who can't find a job, you worry about the absence of sparrows and the paucity of butterflies, about destruction of habitats, you worry about the decline of the language, about the books that are no longer read, about the people who don't read. All of which is entirely unproductive—self-indulgent, maybe. Leave the knives to the police, the habitats to the environmentalists. If people don't read, that's their choice; a lifelong book habit may itself be some sort of affliction."
These ideas are from Charlotte, a somewhat older and wiser character who has just been mugged and has had her purse stolen. She seems more or less to be the star of the show...or at least she's where it all began.
The book's other characters are normal people who are very busy with jobs, breakfast, shopping, work, rushing around, and staying busy. Love it.
...
Sunday, February 27, 2022
I watched a splendid interview on BookTV today. It was one of the first to be recorded back in the C-SPAN studio rather than on zoom, and the difference in the quality of discussion was extraordinary. The difference between talking to someone face to face rather than on zoom is the difference between Tres Leches Cake and a Hostess Twinkie.
Laura Coates talked about her new book on justice in the legal system with Georgetown Law professor Kristin Henning.
In discussing the work of civil rights activism in the 60s and 70s, Laura mentioned a quote by Arthur Ashe,
"Start where you are. Use what you have. Do what you can."
Laura is optimistic that full civil rights can be achieved soon even though there is plenty of evidence to the contrary. She stated that there are times in history when things can and do change quickly.
Words du jour: Informed optimism.
...
Saturday, February 26, 2022
Olga Tokarczuk wrote Flights. She won the Nobel, the Booker, and others.
I did finish it out of respect. However, the book was and is too complicated for me to understand.
I've always understood the standard wisdom of novel writing to be:
A character who eats porridge or grows beanstalks or milks a cow behaves and acts in certain ways. Therefore, the plot, like the porridge, will thicken as the characters heat up.
David Hare of Page Eight and Beat the Devil would agree, I feel.
In Flights, there were several plots and characters. And they were mixed in with monologues, soliloquy, partial monographs, train tickets, and bodies of water.
Also, to become invested in a book, readers have to care about the characters whether they be Ishmael, Jean Valjean, Huck, Hester, Dorothy, or even Jack and Jill.
In Flights,
I had difficulty staying focused on the characters and their attributes as they were woven in and out of time and space. I would, for sure, benefit from rereading this at some point in the future.
Maybe just resting with Mrs. Maisel for awhile and rewatching the scene where Susie (Alex Borstein) gives the single best eulogy ever written for mature audiences on or off TV for her co-worker Jacopo "Jackie" Dellapietra (in real life Brian Tarantina [1959-2019]). Season 4, episode 3, minutes 37:05-41:26.
...
Thursday, February 24, 2022
After reading 3 books by revolutionaries:
I suddenly began thinking about woodcut books and one in particular. It took digging, looking, searching, reviewing, giving up, and then at the last minute stumbling upon…exactly what I was looking for.
Riding the Tiger by Eve Bunting
With the woodcuts by David Frampton
© 2001 Clarion Books of New York.
And then, of course, regarding Olga and Flights…Olga, I tried. But wow. Lectures in the midst of stories in the midst of time travel in the midst of characters that lack appeal, and I'm lost.
Sad. Sadder. Saddest. Sadly.
...
Wednesday, February 23, 2022
Flights is proving a challenge.
So, as a break, for some reason, I've dug out my copy of The Happy Prince by Oscar Wilde, which led me to The Little Prince by Antoine de Saint-Exupery, which led me to Persepolis by Marjane Satrapi who has written the perfect book of revolution.
The Little Prince was published in the USA in 1943 by Reynal and Hitchcock. This 1943 version was translated from the French by Katherine Woods. Reynal and Hitchcock was purchased by Harcourt in 1948. The book was then republished in 2000 after havig been re-translated from the French by Richard Howard. Howard's is considered to be the most accurate. Or perhaps it's the Woods translation. Hmmmm.
There is also an online rendering of the book read aloud by Kenneth Branagh whose interpretation is perfect.
Saint-Exupery's life story is one of the best around. Bigger than life and sadly lost.
Back to Flights. I wonder if the people of Nobel and Booker find it necessary to select books that are difficult.
...
Sunday, February 20, 2022
You know, it's like anything else…
Olga Tokarczuk won the Nobel and the Booker for Flights.
It's philosophy. It's existentialism. It's a novel. It's introspective. It's extrospective. It's difficult. It's easy. It's a miracle. It's too soon to tell.
It's in my hands, and it's a busy week ahead.
...
Tuesday, February 8, 2022
Since it's been twenty years since I've read it and since it's been under scrutiny by politicians and the media as of late, I felt it was time to reread Walk Two Moons by Sharon Creech.
Update: Wednesday, February 9, 2022
All is well. Nothing to fear in this award-winning book. I do think that Gram and Gramps were a little too folksy and not all that reliable as grandparents and that Sal and Phoebe were too imaginatively independent compared to other young girls around their age, but the book was engaging and worthwhile.
Footnote: Not as good as Creech's Love that Dog, of course. But there you go. Done and dusted.
...
A delightful Sunday morning watching a live two-hour interview on BookTV with Georgetown law professor Sheryll Cashin and the incomparable Peter Slen.
And all places in between
...
Saturday, February 5, 2022
I wish I could remember when I first realized that writers were the best people on earth.
I finished the essay that Robert Gottlieb wrote about Sinclair Lewis when suddenly I realized I was reading.
The writing was so good, the explanation of Sinclair's life was so clear, and the authority of the author was so evident that I didn't even realize I was reading.
So, now I'm starting Main Street and Babbitt by Sinclair, rereading Stephen King's On Writing, and I'm also reading Persepolis, which was referenced in the Book Review. I read it some time ago, but it's time for a refresh. For sure.
...
Regarding Lisey's Story by Stephen King. Whoa. The reviews rave about the book's portrayal of the loveliness of marriage and the importance of the wife in the success of the husband's writing career. This has been thoroughly documented in all kinds of sociological research.
The HBO movie seems to be more about mental illness rather than marriage.
Hmm. HBO missed an opportunity.
Why, I wonder.
Stephen is undoubtedly indebted to Tabby to whom he dedicated the book. The whole family seems decent, stable, talented, creative, and hard-working.
But Stephen. Wow. He's unstoppable.
And then Mare Winningham reading Lisey's Story. Who could want for more? Mare's voice is remarkable. I wish she'd read aloud everything.
And then there's also that lovely poster in the old folks' home in The Stand where Stephen is included in the poster's ad. VERY sneaky.
And then there's his book On Writing, which is the one to read and reread, which I've done.
And then Stephen won the Audie 2020 lifetime achievement award and was introduced to the podium by his son.
And then I was going to write him a fan letter, but his website basically said, "No." So, I've written these few thoughts instead.
How can you not be happy for his talent and success! Well done, Stephen.
...
...
Wednesday, January 26, 2022
I just finished Silverview, the late John le Carré 's final book. In fact, his son had to complete it because it was still on John's desk.
It had a nice ending that mirrored both real life and book life.
Edward, Deborah, Salma, Proctor, Ellen, Lily, and Julian.
In the end, it was the mailman who made the final delivery.
As realistic and legitimate as all these cold-war spy novels are, they don't compare to the current troubles in Ukraine, where undoubtedly, a lot of people are working above and below to keep the natural gas lines open and flowing.
...
Tuesday, January 18, 2022
Today, I'm feeling like a brown bear searching for salmon in a river.
For the past couple of hours, I've been reading The Book Review's 125 years of reviews.
So. Here I am, the bear, wading around in the water without direction or agenda just meandering here and there waiting for something to come my way.
Flannery, Eudora, Edith, Nora, Zadie, William F., Ralph, and The Babe.
And invariably, thoughts like these always seem to lead somehow to semiotics and intertextuality as written about by Julia Kristeva whose work I consistently set aside unlike the bear with his salmon.
Just another typical Tuesday meandering through The Times.
...
Saturday, January 15, 2022
The problem with The Tragedy of Macbeth is that Joel Cohen assumed most of us could keep up. But alas, as Shakespeare might have said, "Oh my, it is a never-fixed mark."
The tall cement-like building that houses the film's action was a key character in this update and certainly added to the feelings of deception and deceit that led to all the mayhem, meanness, and madness.
But for the non-Macbeth scholar (me), it was difficult to know who was who and who was after whom.
Conversely, the 2015 Macbeth film with Michael Fassbender and Marion Cotillard and the incomparable Paddy Considine made it much more clear as to who was climbing for the twin peaks of power and glory.
So. It seems that. Power and glory without service to the greater good will invariably and always end badly…eventually. Hopefully.
Never. The. Less. Denzel…Frances…and the fabulous Brendan Gleeson…perchance quite a treat.
In 2016, to mark the 400th year of Shakepeare's death, BookTV interviewed the director of the Folger Shakespeare Library in DC, Michael Witmore. Michael did a wonderful, wonderful job explaining this institution and the man. It was hard to stop watching. But that's what happens when you hire a Berkeley grad.
...
Plato and a Platypus Walk into a Bar… © 2007
By
Thomas Cathcart
And
Daniel Klein
...
Saturday, January 1, 2022
Therefore, New Year's Resolutions are in order:
Eat less (chocolate) [if possible]
Keep track of Taika Waititi
...
Friday, December 31, 2021
Two books that have stayed with me all these years are Stones from the River by Ursula Hegi and The Book Thief by Markus Zusak. WWII, fascism, the working class, book burning, prejudice, shock, horror, complicity, unforgivable acts. Both books explain all this through characters that are victims of the arrogance and banality of evil.
Colm Toibin's The Magician: A Novel looks at all those factors through the life of Thomas Mann and even though The Magician gets positive critical reviews from those in the know, I found it to be less compelling than Stones from the River or The Book Thief (especially when Thief is read aloud by the incomparable Allan Corduner).
Maybe this is all because when disaster strikes the lives of ordinary folks, the mind embraces them more profoundly than when disaster strikes those who have options, connections, money, status, and resources even when they are forced into disruption. Seems wrong, but there you have it.
ON the other hand (and there's always an other hand), there are indeed those who have the big picture capacity and the intellectual capacity to process huge amounts of information and who can therefore offer insights, perspectives, and solutions that most others can't. In the end, Mann did not shirk his duties as a public scholar, and that is why there are so many books about him.
Also, I've come to realize, I like books with short sentences.
Speaking of movies related to WWII…
A recent movie starring Brendan Gleeson and Emma Thompson does an excellent job of showing what ordinary people must do to endure and fight oppression. Alone in Berlin. A German working class couple lost their son in the war and gradually and secretly fought back against the oppressive regime of their government.
A lot to end 2021 with, but then again, 2021 provided a lot to ponder.
And finally, I think I'd make a terrible spy but a pretty good subversive.
Monday, December 27, 2021
28% into The Magician: A Novel by Colm Tóibín.
It took me several, many, a lot of pages before I realized this novel was based on the life of Thomas Mann.
However, I won't check out the wiki page till I decide if it's all plausible or not. But really…anything Colm writes is gonna be great.
Tuesday, December 21, 2021
Received my yearly Christmas card for 15 Christmases in a row from the President making the season officially hopeful.
Framed and admired on a daily basis.
Merry Christmas, President and Mrs. Carter.
...
Friday, December 17, 2021
And that's not even counting Twyla Tharp's interview on Fresh Air as well as Anna Baryshnikov on Dickinson.

...
Sunday, December 12, 2021
It's maniacally sad to be this delinquent in reading The Book Reviews.
Too much Vivian, Alice, and Cindy?
Maybe. Probably. Perhaps. Then, again.
PLUS…I MUST get back to Bill Bryson. I've been on page 168 since 2003. Sorry, Bill. Today's the day.
...
Friday, December 10, 2021
Being between books, I'm rewatching all three seasons of The Marvelous Mrs. Maisel waiting for season four to begin some time in 2022.
Twenty-twenty-two. I wonder if that's how you write that.
There's a scene in season two of the series that I particularly liked. Miriam's mom, Rose Weissman, goes to Paris for some fresh air, French toast, and independence (or as the French say liberté, égalité, fraternité). While there, she visits the Rodin Museum where she sees the Burghers of Calais and then returns to her apartment to tell her husband, Abe, all about the museum and the sculpture.
I thought, "Hmmmm. That sculpture looks familiar." So, I flipped through the 13,412 photos on my mac, and voila. There it was.
The Burghers of Calais being studied by students and their teacher at the Met via my iPhone in 2014.
It's a spectacular sculpture in the series, on the screen, and in person. Full of skilled craftsmanship, historical significance, and lessons to be learned.
The Burghers at the Rodin.
Burghers and students at the Met.
Thursday, December 2, 2021
Spend the day with Fiona Shaw.
I stumbled onto a podcast from the National Theatre from 2011 and listened to Fiona's interview…three times. On the second and third time, I took notes:
Alan Rickman, Fiona Shaw, Lindsay Duncan in John Gabriel Borkman (2011) by Henrik Ibsen (1896).
Originally with Glenda Jackson in 1984 and then with Fiona Shaw and Tim McInnery in Scenes From an Execution (2012) by Howard Barker.
Alec Guiness and Fiona Shaw (1995 and again 2010) The Wasteland by T.S. Eilot. "April is the cruelest month."
Fiona Shaw with director Phyllida Lloyd in Brooklyn in 2013 The Rime of the Ancient Mariner by Samuel Taylor Coleridge written in 1797.
Fiona Shaw in Fleabag, Killing Eve, Harry Potter.
Fiona Shaw in The Prime of Miss Jean Brodie (1998) by Muriel Spark (92nd Street Y interview) written in 1961.
Fiona Shaw, Maggie Smith, Keeley Hawes, Michael Gambon, David Tennant in The Last September (Book by Elizabeth Bowen in 1929, movie by John Banville in 1999).
Fiona Shaw in Hedda Gabler (1992) by Henrik Ibsen (1891).
Fiona Shaw as Winnie in Happy Days (2008) by Samuel Beckett (1960).
Fiona Shaw as Mary in The Testament of Mary (2013) by Colm Toibin.
Fiona Shaw as King Richard in Richard II (1997) directed by Deborah Warner. [Glenda Jackson (2019) as Lear in King Lear].
Fiona Shaw in Shakespeare's Viola in Twelfth Night (not Rosalind in As You Like It).
In the future maybe, Fiona Shaw as Lady Bracknell in Oscar Wilde's The Importance of Being Earnest and Fiona Shaw in Major Barbara (1905) by George Bernard Shaw.
Fiona's mom said, "In the midst of life, we are in death. Pass the marmalade."
...
Friday, November 26, 2021
There is hardly a single thought in my head that hasn't been influenced by Stephen Sondheim's music, plays, and life.
March 22, 1930 - November 26, 2021
...
Tuesday, November 23, 2021
There are some books (many, actually) that even though you've read it from the library, you just gotta have it on your shelf. And Avid Reader by Robert Gottlieb is one of those books.
Photographed, documented, and on the shelf. For posterity and beyond.
...
Sunday, November 21, 2021
Today, BookTV shared a live broadcast from the Miami Book Fair.
I watched H.W. Brands talk about his new book Our First Civil War. Totally great. I just checked it out from the library.
The pièce de résistance was Chris Hedges who has been a heroic writer for decades. His new book is Our Class, and I just queued up for it at the library. His presentation was brilliant.
A day of thinking well spent.
...
Tuesday, November 16, 2021
Ann Patchett of Parnassus Books said she told Kate DiCamillo that readers would remember her book, The Beatryce Prophecy 100 years from now. Seemed like I should read it. I did. Quite good.
My favorite, though, of Kate's is The Miraculous Journey of Edward Tulane AND The Tale of Despereaux. Love them both. AND, I'd have to add her Flora and Ulysses as another favorite; and then wow, the Raymie Nightengale series…all wonderful!!!!!!!!!! Kate shouldn't worry about the longevity of her books. They're here to stay.
The Beatryce book leaves one wondering whether those who lie, cheat, and steal will always ultimately fail in their efforts to be villainous, or will those who lie, cheat, and steal mostly wind up as winners.
Sure wish real life mirrored those books wherein the virtuous always win and the villains always lose.
Also, from a feminist perspective, Beatryce's mother was beautiful and smart, the mermaid was beautiful with a jeweled tail, the boy was brave and tenacious, and Beatryce was an egalitarian who could read and write. Quite a collection of folks.
...
Wednesday, November 10, 2021
It's difficult to begin another book while still thinking about Emmett and Billy (from The Lincoln Highway) as FINALLY they start out from Times Square to San Francisco for their next big adventure. It seems like the book almost leaves room for a sequel. But I can't think what could possibly be better than what's already happened to them:
Having the Studebaker stolen,
Camping at the high line before it was the High Line,
Escaping the loathsome Pastor John,
Meeting Professor Abernathe on the 55th floor of the Empire State Building,
Finding $150,000 in a safe,
Leaving town with silver dollars and two brothers all in tact.
And not to forget the book that started it all: Professor Abacus Abernathe's Compendium of Heroes, Adventurers, and Other Intrepid Travelers which included all manner of Greek and Roman references and, of course, Joseph Campbell.
The biggest sad part of the novel was Woolly. He never got to see the Statue of Liberty. And I wish the scene of $50,000 floating around in a lake with a boy who couldn't swim had been different. But it happens.
Mary Beard, the classicist, according to By the Book is fond of Robert Harris's Cicero trilogy. Sadly, it's difficult to find info on the sequence of each separate book. Cicero's secretary, Tiro, provided the info on Cicero's life (106-43 BCE).
This appears to be the order of the published books:
Mary also recommends learning Latin to enjoy Tacitus' Annals (a history of the Roman Empire). (I'm pretty sure that won't happen.)
To begin a study of the classics, she also recommends starting with Greece and Homer (800 BCE-701 BCE) and his Odyssey. Mary recommends the writer Derek Walcott in this regard.
[Iliad by Homer chronicles Trojan War including King Agamemnon and warrior Achilles]
[Odysseus and Odyssey occurred after events of Iliad.]
Trojan War with Agamemnon and Achilles and then Odysseus.
Is any of this even remotely accurate? And will I remember it?
...
In olden days, the most trusted people in America were Walter Cronkite and Eleanor Roosevelt.
And then there's not to forget Jeff and Goodyear or the indomitable Mr Wilson.
...
S
aturday, November 6, 2021
You're five pages in, and you know. You just know. You absolutely know.
The Lincoln Highway by Amor Towles is compelling and propelling.
The characters are trying to make their lives work in spite of no money, no house, a questionable past, no support system, no parents of note, and little experience with how to get by. And so it goes with an old Studebaker, the unlikely promise of money, and a long stretch of highway from Times Square to the Palace of the Legion of Honor in San Francisco's Lincoln Park as their only hope.
And in spite of John Banville's admittance that he doesn't read much fiction anymore because it's mere prattle, I do. I do, I absolutely do, because it's not prattle a'tall.
Fingers crossed that it all works out. It did for A Gentleman in Moscow. So, hopes are high.
...
Thursday, November 4, 2021.
John Banville was interviewed today for By the Book.
He says, "I'm rereading the Everyman's Library edition of Thomas Mann's "The Magic Mountain" in the magnificent translation by John E. Woods. Also "The Empress of Ireland," an inexplicably neglected memoir by Christopher Robbins of the inexplicably forgotten Irish film director Brian Desmond Hurst, first published in 2004. The book is extremely engaging, sad and funny, and a sort of masterpiece in its way. Get it in the wonderful and wonderfully named Slightly Foxed Editions edition, if you can."
What better advice I do not know.
Illustration by Rebecca Clarke.
Little Debbie and I have just finished The Morning Star by Karl Ove Knausgaard. A serious book.
He explores philosophy, life and death, and truth through the eyes and lives of many characters. These characters don't necessarily know each other although they seem to cross paths in quite surprising ways. A priest performs a funeral for an unknown man whom she met on the train the day before. He'd said, "I am the Lord." The man had died a week earlier.
So, Karl Ove is wrestling with big issues and relying on Aristotle, Greek gods, Roman myths, Norse mythology, religion, and the trials and trepidations of modernity, which as it turns out, is not all that rewarding.
He's wrestling with issues that he wrote about throughout his six volumes of My Struggle. At some point, ya just gotta admit that it's okay and/or desirable to say, "We just don't know."
However and further, there is no fault, none, ever, in forever asking the big questions.

...
Books up next. A lot of reading to be accomplished.
Plus, I was reading that sesame seeds have a lot of Tyrosine which can enhance memory.
1 gram per day. I have no idea how much that is. I need a triple beam balance scale and a lot of other metric stuff as well. Clearly.
And with a respectful nod to Malcolm G., not even my 10,000 hours over the years of photoshop usage seem to be enough. Still.

...
Wednesday, October 20, 2021
Sadly, not even Giovanni Ribisi can save Julie Delpy's On the Verge. Setting women back 70 years is hard to do with a great cast, but whoa, there you are. The perfect 1950s show.
I wonder if Julie is familiar with Wally Funk of the Mercury 13 crew. Wally's interview on C-SPAN was fabulous.
The space race began in the 1960s:
Out of 159 men pilots, there were seven

(4.4%)

who were able to make the cut for the first earth-orbital program. Hence: Mercury Seven.
Out of 25 women pilots, there were thirteen (52%) who were able to make the cut for the first earth-orbital program. Hence: Mercury 13.
Wally, at an ageless 82, just returned from outer space. She was thrilled.
Yesterday, out of the blue, I was thinking of Sara Nelson. MANY years ago, she did an outstanding interview on BookTV about her role as editor in chief of Publishers Weekly. Then surprisingly, she went to Amazon as director for books and Kindle. And now? A quick search finds her, thankfully, back in the thick of it at HarpersCollins since July 18, 2016.
I wonder if they'd like to have lunch? My treat.
Sara and Wally.
Tuesday, October 12, 2021
Matters of immense consequence.
That's what it was…the National Book Festival sponsored by The Library of Congress. Live. There's something about live book discussions that enable matters of immense consequence to come to light.
The first session I watched included David Rubenstein and Joseph Ellis with a robust discussion of the revolutionary war.
I learned a lot. An eight-year war that was all about power…not taxation necessarily, but power.
If the British had won, Canada, North America, and the Caribbean would have become colonies of Great Britain.
Who's to say. Think of it.
Next up is Silverview by John le Carré. The book was his last and contains matters of immense consequence, which is a lovely phrase that I absolutely lifted from the NYT review of this book.
The Lincoln Highway by Amor Towles
The Morning Star by Karl Ove Knausgaard
The Magician by Colm Tóibín
The Lying Life of Adults by Elena Ferrante
...
Seems like lately, everywhere I look, there's William and his work.
William Keepers Maxwell was the fiction editor for The New Yorker for forty years.
He wrote Nearing 90 for the NYT Magazine published on March 9, 1997.
He died July 31, 2000 at age 91.
Modern-day American literature begins with him. His editorial and writing accomplishments are like no other. And in the end, he always liked writing sentences and perhaps still does.
Jill Krementz photographed him for her book, which is by far one of the best things I own: The Writer's Desk.
William is on page sixty-four
right after Joan Didion and right before Robert Coles.
...
Peter Slen and History Professor Roxanne Dunbar-Ortiz.
Today. Live. BookTV. Two Hours.
Her scholarship coincides with the work of Howard Zinn and his A People's History of the United States. Her research focuses on indigenous people, colonialism, historical events, and the global connections of those concepts and events.
The callers were informed and appreciative. And her explanations, references, and remarks were all illuminating.
Couldn't have been better.
...
Finished Mrs. March. I'm not sure why publishers are interested in books about women who proceed to fall apart over a period of time. I don't think this particular book was enlightening or entertaining whereas Where'd You Go, Bernadette was both. In fact, I think I'll reread Bernadette. SO much better than the movie, although Hollywood gave it a good shot.
Also, Amor Towles has a new book out as does Karl Ove Knausgaard. And it's very possible that I'll read them both.
...
Wednesday, September 29, 2021
I bought the hardcover catalog for Alice Neel's recent showing at the Met. It arrived today. There was a TV documentary about her quite some time ago. It was compelling, and that's when I became a fan. And then the NYT did a couple of recent pieces. So getting the book was essential.
And happily, I've got it. However, seeing paintings in real life and not in a book is far more impactful. Her Andy Warhol at the Whitney has staying power.
I've got the book and couldn't be happier. Well…ya' know. Relativity and all that.
...
Friday, September 24, 2021
Some day, I'll be sophisticated enough to appreciate barefoot musicians in gray suits who are self-mesmerized and telling the world:
Don't you worry 'bout me, everybody's coming to my house.
In the meantime, I've reread Jon Klassen's The Rock from the Sky online from the library. Too, too good. Reminds me of Wayward Pines, season one.
What else are we not aware of.
...
Sunday, September 19, 2021
Caught the season two opener of The Morning Show on Apple TV. While the leading lead finishes typing up her memoir about how tough it is to be a mega star on TV and to have your life totally controlled by a media corporation, I'm betting there will be little sympathy for her character in the real real world. I stopped watching when she started reflectively gazing out the window of her winter chalet while sporting a cozy, sky blue cable-knit sweater and sipping contentedly from an over-sized mug of coffee.
Meanwhile Billy Crudup steals every scene. As does Holland Taylor.
I wonder what the writers were thinking.
ALSO…wow. Elizabeth Moss is unstoppable. Handmaid's Tale? The Square? Mad Men? Shirley? And all the others. She's as good as Meryl…maybe better. Is that allowed to be said.
Meanwhile, I'm finishing Hamnet today, and I can't stop thinking about this wonderful book which is due back at the library, and as Jessica Tandy and Dan Aykroyd discussed in Driving Miss Daisy…
...
Friday, September 10, 2021
For writers like Aleksandr Solzhenitsyn, Tom Stoppard, László Krasznahorkai, and Uwe Johnson (there are others…but these are the ones I've read) who lived under the control of totalitarianistic and corrupt governments and then wrote about that kind of life, it's nearly too much, it's dark, it's essential, it's honorable, it's unbearable, it's bearable, it's illuminating, it's instructive, it's guidance, it's the study of oppression 101. All that.
And it's totally different than the message of oppression represented in the film Nomadland. Frances McDormand played Fern who had skidded into hard times and then had been drawn to a group who blamed the tyranny of capitalism for their woes and downfalls.
The tyranny of government storming your home, stealing everything, and leaving you for dead is a different kind of tyranny than Wall Street in the dead of night manipulating your bank account, your job, your livelihood, your mortgage, your pension, your life.
The first requires physical resistance that nearly always fails while the other requires education, financial awareness, voting rights, plenty of library books, solidarity, and reliance on Naomi Klein, Thomas Pikkety, Dolores Huerta, Jill Lepore, Jared Diamond, Robert Woodson, Michael Lewis, Lawrence Wright, Arundhati Roy, Jane Mayer, Thomas Dyja, and Greta Thunberg.
However, and even after due diligence of study and thought, in the end, the Delta variant needs neither government nor Wall Street to control the world. It is satisfied with its one and only brainless, self-centered, ego-driven talent…to duplicate.
Life. Blessings and curses and all things in between. That's life.
...
Monday, September 6, 2021
Francine Prose wrote The Vixen. It's about Ethel and Julius Rosenberg who were convicted of treason in 1953. Judi Dench was in Red Joan and played a British college student who was also involved in treason. But the best related movie was Angels in America when Meryl Streep portrayed Ethel's ghost and visited the hospital bedside of the dying Roy Cohn. It was unforgettable.
The Vixen's main character is Simon who is trying to rise in the ranks of editorship in the New York publishing industry in 1953.
Simon trembles, steps unsuredly, loses the ability to speak, loses the ability to think, and lives across the street from Bellevue Hospital. He's no Max Perkins and is tedious.
80% of Americans belonged to unions in the 50s.
How many Americans wear an Apple Watch?
On a real upbeat note, Audra McDonald was interviewed on Sirius yesterday. Lots of talent and major generosity.
Saturday, August 28, 2021
László Krasznahorkai is an Hungarian writer who has won the Booker and the National Book Award and a PEN honor.
I'm reading his The Melancholy of Resistance…it's dystopian, disturbing, scary, and compelling in that I can't stop reading it.
But it's now less scary that I've heard him interviewed at the 92nd Street Y with Salman Rushdie and then by Colm Tóibín via PEN America not to mention Michael Silverblatt of Bookworm.
He seems pretty normal, which makes the dystopia easier and less scary to read.
The whale is coming to town.
...
Just finished reading Rita Dove's By the Book interview.
A BookTV episode from way back.
Rita Dove (former laureate)
Robert Haas (former laureate)
Robert Pinsky (former laureate)
1998. At the White House. Giving readings. Sharing poems. All on the same stage. Making poetry look completely normal.
https://www.c-span.org/video/?103818-1/poetry-united-states#!
...
The thing about it is that Tom Stoppard is a public intellectual who is peerless. On every page of his biography are insights and facts that are the result of his pain-staking research into the governments, peoples, and power in Germany, Russia, the Czech Republic, and London during the last century and beyond.
He said that he spends a lot of time on the research for each detail that he includes in his plays. I'm almost finished with Hermione Lee's biography of him and have just checked out from the library, Travesties.
His newest and perhaps final play, Leopoldstadt, opened in London in March 2020 and was closed by COVID. It's supposed to reopen in October. But realistically, it probably won't.
One of these days, the new normal will actually be normal.
Also, watched Annette (neither Funicello nor Bening).
Nine-minute standing ovation at Cannes.
Tom, Hermione, Annette...a busy week.
With overwhelming respect for Judi, Ian, and Idris, Cats with Elaine Paige and Ken Page will last forever.
I'd forgotten how good the original actually is even though I've watched it five or six times in the last ten years. It gets me every time. The same spots...most notably when Old Deuteronomy raises his paws at the very end for a well-deserved and final stretch of victory.
Plus, I learned how to blur the background on my new M1 Mac. Still, a 24" screen is claustrophobic.
32" seems way excessive. 30" would be great. Apple? You there?
...
I heard a good phrase the other day…one that I'll try to keep track of.
"Uncomplicated integrity"
I've been reading so much nonfiction lately that I've almost forgotten what it's like to be reading and then to all of a sudden forget that you're reading.
But with The President's Daughter: A Thriller by Bill Clinton and James Patterson, that invisibility of the book returned.
With nonfiction, I read slower and have to look stuff up as I go.
With well-written fiction, it's easy just to fall into the story and forget about the print on the page. Funny how that happens. Paper, print, the brain, a good story. That's all that's required.
With the Clinton/Patterson book, the nation's security forces and their talents were accurately portrayed as were the many frailties of our species. But what really started the book's whole mess was the folly of youth, teenage short-sightedness, and the self-promotion of too many in power in and out of every single day. It really was a page turner. Hard to believe. But t'was.
The bigger theme of the book was who gets to decide which culture and whose values will be respected. And that theme remains unresolved.
BookTV.
The book, the movie…all very grand. Brooklyn by Colm Tóibín (KOL-əm toh-BEEN).
Colm. Reading his books and listening to his interviews are steadying. His interviews with Michael Silverblatt are always the best. But Brooklyn. Wow. What a story. How could he write anything better.
Around the same time as loving Brooklyn for the umpteenth time, reading The Woman Who Stole Vermeer by Anthony Amore while remembering Nory Ryan's Song by Patricia Reilly Giff provide both a fictional and nonfictional feel for Irish life and the relationships between Ireland and England.
And of course, all this doesn't begin to explain Northern Ireland, which is a whole different level of understandings.
Finally, adding Frank McCourt's Angela's Ashes to the work of Colm, Anthony, and Patricia makes it all very melancholic but also and oddly very satisfying.
...
You gotta love a couple of tv shows where the writers manage to work in a little science and a bit of linguistics:
Orphan Black
(force = mass x acceleration)
Ted Lasso
(You use a word so much that its meaning devolves into just a bunch of sounds.)
...
It's magic. Obviously. Reading Robert Gottlieb's July 4, 2021 review of John Gunther's Inside America copyright 1946 is nothing short of magic.
And then many clicks later through ILL (interlibrary loan), the book is in my hands.
So, from one avid reader to another, many thanks.
...
Tom Stoppard by Hermione Lee is terrific. Seeing the historical view of Tom's life from the Czech Republic to Singapore to India to London to NYC shines light not just on Tom's life but on historical events as well. The other book that stays with me and comes to mind on a regular basis particularly as I'm reading Tom is by the late Uwe Johnson and is titled, Anniversaries: From a Year in the Life of Gesine Cresspahl. What a wonderful novel. Published by the New York Review of Books.
The history of twentieth century conflicts, revolutions, winners, losers, survivors, and innocents is best understood in these kinds of stories.
Plus, today I was watching on BookTV a University of Chicago historian talk about his new book. He referenced Keynes's mumbo jumbo. Red flag alert...particularly considering that FDR with advice from John Maynard Keynes saved America after the Great Depression. And at the same time, Emma Rothschild of Harvard was his host and represented the best of what an intellectual community should be. Her stance, like all seasoned scholars, was one of always asking the right questions as opposed to believing something strongly and then seeking out facts to support one's beliefs.
After all that, it's nice to look at Monet's water lilies.
Monet at MOMA, March, 2015.
I know that William Gaddis created a book form that involves writing dialogue with no quotation marks. The writing and action were so well written that you knew exactly who was speaking even without quotation marks. Zero. None. Nada.
Relatedly, I'm s l o w l y getting through The Friend b
y Sigrid Nunez. It's slow because I'm having to reread almost every paragraph to figure out who is speaking to whom. And that's in spite of the book's use of quotation marks. Sometimes it's apparent who's speaking but mostly not. Somewhat irritating.
I'm sure it's my lack of sophistication as a reader that I'm having trouble.
Also, I just watched James Patterson and Bill Clinton talk on BookTV about their new mystery book, The President's Daughter. It's up next on my nightstand. And I'm betting I'll have no trouble following what's going on. Their interview was splendid, June 8, 2021, and you can quote me.
...
It was a perfect interview.
...
The History of Home Economics: How Trailblazing Women Harnessed the Power of Home and Changed the Way We Live
Independent Journalist published by W.W. Norton
After the Fall: Being American in the World We Made
Former deputy national security adviser for the Obama administration, 2009-2017.
Justice Rising: Robert Kennedy's America in Black and White
University of South Carolina
Interviewed by Kenneth Mack who appeared to be under-prepared although he did indicate that he had read the book under discussion.
And then of course, it's a live two-hour BookTV interview tomorrow with Annette Gordon-Reed. It will be great. Totally.
Plus, there's the fireworks.
...
The Great Mistake by Jonathan Lee
Hamnet by Maggie O'Farrell
The Art of Eating by M. F. K. Fisher
The Friend by Sigrid Nunez
Oliver Wendell Holmes by Stephen Budiansky
The Woman They Could Not Silence by Kate Moore
Tom Stoppard by Hermione Lee
The Code Breaker by Walter Isaacson
Inside U.S.A. by John Gunther (recommended by the incomparable Robert Gottlieb)
...
An excess of book reviews means an excess of books that are waiting to be read.
Currently, in the middle of Whereabouts by Jhumpa Lahiri and can't seem to put it down. The chapters are tiny and short, which gives you the chance to reread these short little morsels of angst and ennui…and enjoy them all over again...perfect for a hot summer day.
...
Finally finished New York, New York, New York by Thomas Dyja. At the same time, on my mind are Vera by Carol Edgarian (about the SF earthquake) and an interview with Lawrence Ferlinghetti (about poetry and his SF bookstore).
Also related to SF were a couple of movie/TV references. That's a lot of SF in a short period of time.
The New York book made me rethink and possibly downgrade from A+ to A my love for the theater, museums, and street life of NYC. The New York book also made me think maybe I've been hoodwinked by flashy advertising, brilliant marketing, and non-stop promotion of this whole

I Love New York

thing.
Plus, of course, with 41 theaters, and a budget of 1.8 billion dollars spent by 14.6 million people in 2019, there's no shortage of love.
The Burger Joint at the Parker
Bemelman's at The Carlyle
Museum of the City of New York
A Starbucks on every second corner
And Lin on the A train at 181st In the Heights
Still…there's this bookstore in SF. Beckoning.
...
It's really something to listen to Michael Silverblatt discuss poetry and life with Lawrence Ferlinghetti (1919-2021).
Listening to them via Bookworm on KCRW, it's easy to envision a bit of eavesdropping on them at a café in SF, LA, or even Brooklyn as they discuss Jack Kerouac, Allen Ginsberg, William Carlos Williams, Walt Whitman, and Ezra Pound while also acknowledging that Ezra wrote global poetry while the rest wrote American. It's easy to envision eavesdropping on this conversation but not as easy to envision eavesdropping on two people in the same cafe discussing fishing, knitting, bowling, biking, big salads, or even the habitation of Mars. Poetry just feels different somehow.
To understand America through poetry remains a utopian dream. And yet a poem about spring by ee cummings recited in the moment by Lawrence makes it seem doable.
In the end, it's probably Mark Twain or Susan Sontag who can best tell America about itself or perhaps Alexis de Tocqueville (or actually and most probably Susan, Linda, Nina, and Cokie (as in Stamberg, Wertheimer, Totenberg, and Roberts, respectively).
In the meantime, Amanda Gorman found us...just in time.
Finally, an aeronautical term that means the time between being functional and being unconscious due to lack of oxygen is called "the time of useful consciousness." And that is the name of Lawrence Ferlinghetti's book, The Time of Useful Consciousness.
City Lights Booksellers and Publishers
Bohemians and Beats, Bonsoir.
...
Sir Max Hastings, a British historian, was live on BookTV today discussing his many books about wars and WWII specifically. He was interviewed by Peter Slen who did a splendid job.
Sir Max discussed Churchill, Roosevelt, Japan, Germans, Russians, WWI, WWII, the Vietnam War, and all related considerations.
His knowledge about the geopolitical conflicts was extraordinary. He explained that the Austrian Hungarian Empire of WWI used the assassination of Franz Ferdinand by a Seriban as an excuse to expand their empire.
And from that goal to amass wide swaths of land, modern war came to be.
One caller wanted to know if Germany, France, and Japan also had scholarly writers who wrote about these wars. Sir Max referenced the Potsdam Report from Germany as being accurate. The French have no official history of WWI and WWII because no one in France can agree on the complexities of their occupation and collaboration problems. Japanese historians distort the war and their part in it.
Two hours of an in-depth look at history and war with an emphasis on how easily people and governments can be both manipulated and heroic.
Sir Max also mentioned that JFK had read Barbara Tuchman's The Guns of August, and that book played a part in the decisions he made with regard to the Cuban missile crisis with Russia.
And as Harm de Blij said, "We are all geography."
It's just not Sunday without the Times, a milky coffee, and a poem by Cynthia Ozick refuting the review of her new book Antiquities, which I read and liked very much. And the editors of the NYT Book Review had the decency/graciousness to print her lettered poem. All is right with the world (for a brief bit in the world of bookishness).
Also, I've been listening to Martin Amis talk with Michael Silverblatt on Bookworm. Totally worthwhile. To listen to good conversation about books, life, and ideas in a measured and pleasant atmosphere is steadying. Always.
Finally, I read a really good interview with Bill Nighy in The Guardian. He and the reporter were in a café in Piccadilly. He likes cafes. America doesn't have them. Bars and diners. Yes. Cafes with outdoor seating? No. I met him once for a nano-second outside a theater in NYC. He was going to speak. I froze. He continued on. As did I. Eventually.
The famous question of who you'd invite to a dinner party if you could invite any

three

five people made me think I'd invite:
And I'd maneuver them all so that Beatrix could talk about Peter Rabbit, of course, but mostly about shearing sheep and living her life as Mrs. William Heelis. Quite a story. I wish I could hear her voice. I have an idea she sounds a bit like Eleanor Roosevelt but with a countrywoman's British accent. Surely, she's on tape someplace. I'll keep looking.
...
NYC…my favorite place in the world. But is it?
New York, New York, New York: Four Decades of Success, Excess, and Transformation by Thomas Dyja is my kind of book. It tells me the truth. It tells me the behind the scenes story of a city I love, but it also informs me that I've been duped? Misled? Protected from reality?
NYC is a place that roiled with money problems from the beginning, and with money problems come vice and all manner of shenanigans.
The book. The city. The history. The future.
Plus, you gotta love a book where the author uses the Oxford comma
ACTUALLY, this book is an in-depth historically accurate presentation of how culture, finance, power, talent, greed, aspirations, and naiveté come together to make a city that by all measures is the cultural and financial capital of the world.
...
...
As Stephen Sondheim wondered, "Does anyone still wear a hat?"
I wonder, "Do people still clip newspaper articles anymore?"
I do. A bit in excess. In fact.
But then…how many clippings are there of Stacey Abrams.
Actually, quite a few. Millions.
Plus, she's a reader, a writer, and all around leader.
Finally, I made this Please Stand By sign.
...
...
A quiet Sunday with coffee, the NYT, a slight storm in the air, and maybe a cold supper like in all the old movies.
Before I forget what's up and to be read:
The Code Breaker by Walter Isaacson
Hamnet by Maggie O'Farrell
Tom Stoppard by Hermione Lee
The Awkward Black Man by Walter Mosley
The Woman Who Stole Vermeer by Anthony Amore
New York, New York, New York by Thomas Dyja
The Friend by Sigrid Nunez
...
Finally, there are these bison to consider.
...
Via two scholars, the arguments for and against capitalism are explained in just under 90 minutes.
Danilo Petranovich,
Moderator
Arthur C. Brooks, Capitalist
...
After reading the NYT's review, I bought Jon Klassen's new book: The Rock from the Sky, and it was just as good as I knew it would be. He also wrote the engaging and inventive…I Want My Hat Back and the accompanying This is Not My Hat.
All three are brilliant and substantial.
The art, the text, the multi-layeredness, and the fun of the books are rare, unique, and long-lasting.
And unrelatedly and sadly, I accidentally deleted in the trash on my mac my entire folder of recent correspondence.
Word to the wise…don't do that.
...
Finished reading two books this week:
1. Vera: A Novel by Carol Edgarian
Vera is a semi-orphan in San Francisco about the time that Enrico Caruso (yes, that Enrico) sang and exactly at the time when the 1906 earthquake struck and brought SF to its knees.
The story isn't just about the quake, it's about parentage, vice, prejudice, hypocrisy, money, graft, grandeur, women, men, and money, money, money.
I wish the book hadn't ended the way it did.
2. Interior Chinatown by Charles Yu
Patricia Reilly Giff's Nory Ryan's Song from 2001
John Ogbu and Patrick Finn's research from the 1980s
Chinua Achebe's Things Fall Apart from 1958
Colm Tóibín's Brooklyn: A Novel from 2015
All of these books address the assimilation of groups into a different culture. These books also address voluntary versus involuntary assimilation, enslavement, indentured servitude, colonialism, and as one Brexit supporter put it, "our country, our culture, our community."
Also related to how people and beliefs develop are the books by Karen Armstrong who presents historical perspectives on the world's primary religious systems and how those systems came to be.
Religion, inclusion, exclusion, decency, protectionism, fear, fate, generosity, graft, giving…and even on a good day, Plato's Cave still remains front and center.
And of course, Michael Silverblatt set me on the right course to read both of these books. Bookworm…as far from Plato's Cave as one can get.
...
You start the day thinking you know enough, and then there's BookTV and C-SPAN-3…
I.
San Antonio Book Festival April 9, 2021
The Plague
Iliad
1890…Russian flu, probably coronavirus, 70 days, spread through bats to cattle to people from Moscow to NYC
2024…pretty much back to normal until the next plague arrives.
How Ike Led: The Principles Behind Eisenhower's Biggest Decisions
Historian US Holocaust Memorial Museum
SUCH a totally splendid day of learning, and it's only mid-afternoon.
...
...
I never get tired of marveling at or reading Cynthia Ozick.
Antiquities is a brief book full of history, boys, old men, scholars, and fools.
And she always gets it all just exactly right.
After all the searching and Egyptology and boys to men, she writes, "I learned that though stories can never generate pots, pots will always tell stories. —C.O."
From NYT.
It was quite something. The Invisible Life of Addie Larue by V. E. Schwab.
It's one thing to know about Faust, it's quite another to bring it up to date well into the twenty-first century.
Adeline…doesn't want to marry Roger in Villon-sur-Sarthe, France on July 29, 1714.
Henry…is a bookseller in New York City on March 12, 2014.
Luc…Lucian…Lucifer…flits here there and yon for millennia.
London, England…February 3, 2016…Addie remembers Henry but will be with Luc not forever but "as long as you want me by your side."
Overall, an intricately woven and splendidly crafted novel with the overarching message, "Be careful what you wish for."
...
There was a splendid documentary on pocket watches.
George Daniels (1926-2011) was a master craftsman. His apprentice was Roger William Smith (1970-).
Dr. Daniels explained that his pocket watches were:
And they were…are…all those things and more.
Fifteen hours a day working at his jeweler's bench for 60 years…his life.
After watching it, I thought, "Hmm. Wouldn't it be rather nice to own either a GW Daniels watch or an RW Smith watch."
A few clicks and there they were…starting at around a million and a half.
As compensation for a lack of a million and a half, I'm up next to check out from the library, Antiquities by Cynthia Ozick. Can't wait. AND it's free (not counting the computer, the kindle, the iPad, the Wi-Fi, the
electricity to power the battery, and the state taxes that are allocated to fund public libraries). Still it's much less than a million and a half.
Just to know about these historic, intellectual, technical, aesthetic, amusing, useful, and elegant watches is and will have to be…enough.
...
Wednesday, April 14, 2021
The Midnight Library by Matt Haig. Finished last night.
Nora, the main character (by way of the local librarian, Mrs. Elm,) visits and lives through hundreds of lives. As Nora stumbles through time and space being rich, poor, loved, used, successful, unsuccessful and otherwise, she gets to choose a life that best suits her…IF she wants a life.
Swimmer, rock star, bar owner, wife, mother, scholar, or glacier scientist…what to do, what to do.
And toward the end, just when you think, oh no, not a cliché, thankfully, the author sets the whole journey right. A great ending.
Also along for the heroine's journey are Voltaire, Thoreau, Schopenhauer, and Emerson (among others) each playing their philosophical parts.
A thoughtful (as in thought-provoking) book wherein you're always rooting for Nora.
Nora Seed...rather than Colm Tóibín's Nora in Nora or Henrik Ibsen's Nora in The Doll's House or even the incomparable Nora Ehphron.
...
Four weeks behind in the NYTBR. Concurrently, a review of the new movie with Melissa McCarthy and Octavia Spencer called the movie lazy.
The weekend is here…time to catch up with the good, the bad, the lazy and plenty of espresso.
Finally:
carpe diem etc. etc. etc.
(with nods to Odes written by the Roman poet Horace circa 23 BCE and The King and I starring Yul Brynner 1951 CE).
...
Jun 10, 1921 – April 9, 2021
Today's NYT had a piece featuring John Cullum who is 91 and is preparing for a streaming broadcast of his musical repertoire.
Starts tomorrow. April 8, 2021.
Where? 132 W 22nd, NYC, Irish Repertory Theatre.
T
he article had a reference to John's appearance on Unbreakable Kimmy Schmidt (Tituss Burgess and Jane Krakowski and Carol Kane are great and written of course by Tina Fey).
A few clicks (actually many), and here 'tis:
Season 1, Episode 10, 25 minutes, 10 seconds.
And it wasn't just John in the episode. It was also Jefferson Mays and Robert Osborne. Totally great.
And for whatever reason, Jonathan Strange and Mr. Norrell popped into my head.
Fabulous British series from 2015.
Johnathan Strange played by Bertie Carvel
Mr. Norrell played by Eddie Marsan who stole the show…as he always does.
Memory lane? Done. For today.
Except to mention Bodyguard with Keeley Hawes (The Durrells in Corfu) and Richard Madden (Films of Scotland). Scary series but great acting.
And FINALLY speaking of The Durrells…
Josh O'Connor (Hope Gap, The Crown)
Callum Woodhouse (All Creatures Great and Small)
Milo Parker (Mr. Holmes WITH Sir Ian McKellen and Laura Linney no less)
Again, done, after moving through time and space from John to Milo.
...
How normal is it to be so happy about books?
And today, it's a day for women in medicine.
It was a live, two-hour interview with a medical ethicist and researcher, Harriet Washington on Book TV. Her six books are respected best sellers and are all about medicine.
I learned a lot. She was so clear and focused in her presentation that in addition to learning content, it was easy to also learn the art of answering questions and honoring callers.
As an additional bonus, BookTV listed the books she values and is currently reading.
Also, this morning's interview comes on the heels of chapter six of The Doctors Blackwell, which is a book about Elizabeth Blackwell who was the first woman MD in America. It's fabulous. And next is chapter seven.
Medicine. Then. Today. Tomorrow.
Peter Slen and Harriet Washington.
...
...
...
Up next...chapter 7.
Watched Aaron Sorkin's The Trial of the Chicago 7.
Very hard to watch. But very necessary. AND
, the incomparable Aaron Sorkin got it all exactly right.
I had in my "Keepers" file the People magazine from May 1, 1989 featuring the life of Abbie Hoffman
(November 30, 1936-April 12, 1989).
Political discourse, idealism, equity, justice, voting rights, and the absolute commitment to nonviolence…they're all still in play.
Time to reread Thomas Paine, Alexis de Tocqueville, Adam Smith, John Maynard Keynes, Naomi Klein, and Jane Mayer.
Also, there exists an exhaustive and handy list of economists:
https://en.wikipedia.org/wiki/List_of_economists
Finally to the art of the film, seriously, hats off:
Sacha Baron Cohen, Mark Rylance, Frank Langella, and Walter Cronkite.
And as everyone knows/hopes,
"The arc of the moral universe is long, but it bends toward justice."
The Reverend Dr. Martin Luther King, Jr. (January 15, 1929-April 4, 1968).

...
I hate to be so Pollyanna about it all, but wow.
Dame Hermione Lee digs deep into her biographies. I just finished her in depth book on Edith Wharton. It's exhaustive of course, and a bit exhausting to read as well.
From her childhood to her marriage to her war efforts in France to her writings. She was extraordinary. Edith was.
But so is Hermione. Whoa. She's unstoppable.
And waiting in the wings on the proverbial bedside table are Hermione's Virginia Woolf and Penelope Fitzgerald (to get to eventually).
Also, I made the mistake of starting Umberto Eco's Foucault's Pendulum. Heaveey. Now what? Persevere? For a bit.
In the meantime, I have John Barrowman singing Cole Porter's I Happen to Like New York on repeat, repeat, and repeat. It's too perfect and the perfect reprieve from too much academic-type thinking.
...
Wednesday, March 24, 2021
I just finished Klara and the Sun by Kazuo Ishiguro who won the Nobel Prize for literature in 2017.